Posted by Andy Benoit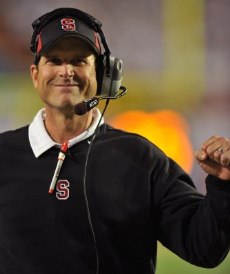 UPDATE 4:30 p.m. ET:
According to
Tim Kawakami of the San Jose Mercury News
, Harbaugh's deal is for five years, $25 million. If this is true, then the
49ers
did NOT increase their offer to Harbaugh after he was reportedly close to sticking with Stanford.
----
The AP is reporting that Stanford coach Jim Harbaugh will sign a five-year contract with the San Francisco 49ers. A press conference has been scheduled for Friday 6:30 p.m. ET.
This is a somewhat long-expected move for Harbaugh, albeit one that had plenty of twists and turns towards the end. Harbaugh and the Niners brass met for five hours on Wednesday. Late Thursday, Stanford reportedly upped its offer to try and keep the head coach. On Friday, whispers about Harbaugh going to Michigan resurfaced. Earlier in the week, the Denver
Broncos
expressed interest – and obviously not as much interest as the Miami
Dolphins
, who sent their top men to California for a face-to-face meeting.
In the end, all the drama only helped to raise Harbaugh's value. We don't yet know exactly what that value is, but we do know that by choosing San Francisco, Harbaugh at least saves himself the cost of moving and buying a new house.
This may have been a closer call for the Niners than many realize. A Stanford source told
ESPN's Chris Mortensen
, "We thought we had Jim locked up last night but Jim wanted to sleep on it." Stanford may never let a head coach hit the hay again.
On the Niners' side of things, let the discussion begin about whether this is the right hire. The initial chatter around the web seems to be saying YES! But very few college coaches successfully leap to the pro level. Harbaugh, of course, played in the NFL and was an assistant for the
Raiders
in 2002-03, so credibility and pro culture shouldn't be issues. Still, Harbaugh is known for his demonstrative style and somewhat cutting personality. College players willingly deal with that. But multimillionaire pros?
For more NFL news, rumors and analysis, follow

@cbssportsnfl

on Twitter and subscribe to our
RSS Feed
.