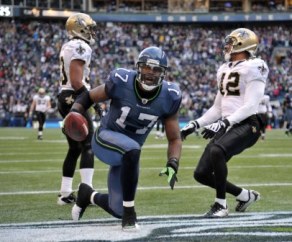 Posted by Andy Benoit

Let's make one thing clear: the Seattle
Seahawks
deserved to win Saturday afternoon
. They had the better game plan (offensive approach: attack
Roman Harper
through the air; defensive approach: play zone and trust that your ends are better than the subpar
Saints
offensive tackles). The Seahawks were fundamentally sounder (the Saints missed six tackles on the
Marshawn Lynch
touchdown run alone). And the Seahawks capitalized on their unparalleled homefield advantage.
And so the Seahawks deserved to win. But that doesn't mean they proved they deserve to be playing. Analysts all over the country will issue mea culpas this week. They'll claim the Seahawks proved that, despite a 7-9 record, they were indeed a worthy playoff team.
But this team was still 7-9 during the regular season. That has to mean
something
. If the NFL trumpets the Seahawks and lauds them as lovable underdogs, the league will tacitly be telling its fans that the regular season really doesn't matter.
This is a very dangerous sentiment – one that sports leagues have a hard time shaking once it catches on (just ask the NBA or MLB). But look at the results of the past five NFL postseasons. In 2008, the 9-7
Cardinals
reached the Super Bowl. In 2007, the 10-6
Giants
WON the Super Bowl (knocking off the perfect
Patriots
in the process). In 2006, the No. 3 seed
Colts
hoisted the Lombardi Trophy. In 2005, the Wild Card
Steelers
won three straight road games to earn rings.
And now a 7-9 team has advanced to the second round (with the 10-6 Bucs team that blew out Seattle in Week 16 was home watching). Perhaps it's great for the NFL. After all, anything can happen come playoff time. And parity rings true. That makes for great television. But what does it say about the importance of the other 17 weeks we just spent watching this league?
The Seahawks deserved to win Saturday. Too bad they still didn't deserve to play, though.
For more NFL news, rumors and analysis, follow

@cbssportsnfl

on Twitter and subscribe to our
RSS Feed
.