Posted by Andy Benoit

1. Goofy scheduling?

We can only hope that the divisional round is half as exciting as the wild card was. The NFL keeps the at-home viewer first in mind when scheduling the playoff games. But is that fan-friendly outlook coming at the expense of fairness to teams?

The schedule, which was set before the postseason began, looks like this: Baltimore @ Pittsburgh Saturday 4:30 p.m.; Green Bay @ Atlanta Saturday 8 p.m.; Seattle @ Chicago Sunday 1 p.m.; New York @ New England Sunday 4:30 p.m.

Because of when the wild card games occurred, Baltimore and Green Bay both have a six-day week ahead of them, while Seattle and New York get an eight-day week.

The NFL used to wait for the outcome of wild card games before determining the divisional round schedule (some might remember that in the '02 postseason Bill Cowher was irked because the league gave the Steelers a Saturday divisional game after a Sunday wild card game while the bigger market Jets got a Sunday divisional game after their Saturday wild card contest).

If the Ravens or Packers wanted to raise a stink about the scheduling, they would have a legitimate argument. But the counter argument would also be legit. That counter argument? Television has made the NFL a cash cow. If coaches and players like being millionaires, they can deal with mild scheduling inconsistencies.

Baltimore Ravens (No. 5 seed; 13-4) @ Pittsburgh Steelers (No. 2 seed; 12-4)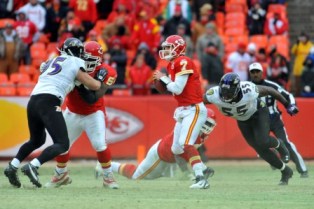 2. Raven D playing Ravenesque D
It's tempting -– and rational –- to opine that the Kansas City Chiefs looked every bit like the young, untested playoff team it was Sunday. This was especially true offensively. Matt Cassel completed 9/18 passes for 70 yards and three interceptions. And, aside from a handful of impressive first half bursts from Jamaal Charles, Kansas City's top-ranked rushing attack was unimpactful.

That said, Sunday's game was more a case of the Ravens winning than the Chiefs losing. Only three of Kansas City's turnovers were relevant. All three of them were forced by Ravens defenders. The two fumbles resulted from scrawny finesse players getting blown up by thundering hits (Terrence Cody on Charles, Ray Lewis on Dexter McCluster). Cassel's lone costly interception was a product of Dwan Landry lurking from his centerfield spot (earlier, Cassel's first pick wound up netting a positive gain for the Chiefs because during his run back, Ravens rookie Haruki Nakamura fumbled while foolishly acquiescing to Ed Reed's request for a lateral).

It wasn't just the turnovers. Baltimore's best linebacker, Terrell Suggs, and the rest of the front seven swarmed the Chiefs backfield all afternoon (Cassel was sacked three times, hit six and hurried umpteen). When the Ravens weren't blitzing, their secondary, unafraid of a Kansas City receiving corps that boasted midweek free agent pickup Kevin Curtis as its No. 2 starter, sat in a zone and enjoyed free ball-hawking reign.

Expect defensive coordinator Greg Mattison to shy away from that zone concept against Pittsburgh. Ben Roethlisberger is simply too dangerous when he bides time. But also expect Mattison to stay in attack-mode with his front seven, as the Steelers' makeshift offensive line has struggled with blitz recognition at times this season.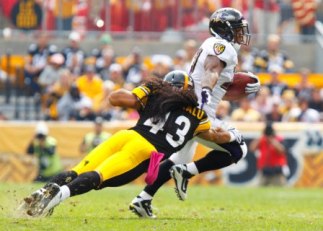 3. Best rivalry in football?
It's hard to argue against Steelers-Ravens currently being the best rivalry in the NFL. Colts-Patriots is great, but aside from playoff time, those matchups have not always carried huge implications. The plethora of NFC East rivalries are fun but tend to wash each other out. The AFC West teams don't like each other, but who cares? Bears-Packers is great rivalry from an all-time perspective, but currently, it's only average because this is the first time since 2001 that both teams have reached the postseason.

The Ravens and Steelers, on the other hand, have been fistfighting for AFC North division titles for most of the past seven years. Their last six regular season matchups have been decided by four points or less (the Steelers have won four). In '08, Pittsburgh beat Baltimore 23-14 in the AFC Championship. In Pittsburgh's previous Super Bowl year ('05) they beat Baltimore 20-19 on Halloween and 16-13 in overtime in November.

These games have been like prize fights – most of which have been decided with 12th-round knockouts.


New York Jets (No. 6 seed, 12-5) @ New England Patriots (No. 1 seed, 14-2)

4. Or is THIS the best rivalry?
It depends if you view NFL coaches and players as athletic competitors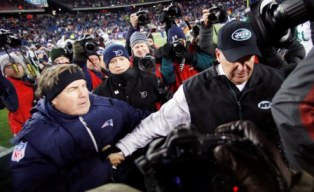 or entertainers. Football-wise, Patriots-Jets is good but not great. The Patriots embarrassed the Jets 45-3 in the last meeting, though Rex Ryan's Jets had won two of three before that.

It's Rex Ryan's personality that has given this rivalry most of its juice as of late. Months after getting his first head coaching job, Ryan famously said "I never came here to kiss Bill Belichick's, you know, rings." Just recently, Ryan complimented Peyton Manning's work ethic by taking a jab at Tom Brady's.

Garrulous as Ryan is, it's that other coach -- the cranky, taciturn one -- that built the foundation for this rivalry. Recall that long before all the Eric Mangini handshake drama, Belichick was Bill Parcells' top assistant with the Jets ('97-'99). He was nabbed as the Tuna's successor in 2000 but announced his resignation during his introductory press conference. Shortly after that, he wound up in New England (the Jets received the Patriots' first-round draft choice in exchange).


5. New York's unheralded defensive lineman
Defensive end Shaun Ellis is the longest-tenured Jet (11 seasons). Aside from 14-year veteran Trevor Pryce, injured nose tackle Kris Jenkins is the most recognized name along the defensive line. Backup Vernon Gholston is the next most recognized name, but only because the former No. 6 overall pick has been a monumental bust.

The most important name on New York's three-man line this Sunday, however, will be Mike Devito. The fourth-year pro from Maine was the primary reason that Indy's recently-surging rushing attack was stifled Saturday night. It's a shame there wasn't a way for Devito's constant penetration and destruction of interior blocking schemes to show up next to his six tackles in the box score.

The Patriots are pass-first team, though they fed BenJarvus Green-Ellis the rock at least 18 times in six of the team's final eight games. They have the talent to block Devito -- Logan Mankins has been the most dominant left guard in football since Thanksgiving and left tackle Matt Light has some of the best feet in the game -- but every team has the talent to block the former undrafted free agent. Matching Devito's energy and tenacity is a different challenge.


Green Bay Packers (No. 6 seed, 11-6) @ Atlanta Falcons (No. 1 seed, 13-3)

6. That Packer defense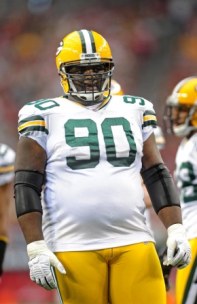 Second week in a row the Packer defense has been highlighted here. Did you see the job this unit did on Philadelphia's explosive playmakers? Everyone, including Andy Reid and Marty Mornhinweg, was expecting Dom Capers to blitz the daylights out of Michael Vick. Capers did so late in the second half, but for much of the game, he had superstar Swiss Army Knife Charles Woodson spy the quarterback. He dropped his linebackers into a safe zone coverage, which took away running lanes and Philly's potent screen game. And, most surprisingly, Capers trusted that corners Tramon Williams and Sam Shields could contain wideouts DeSean Jackson and Jeremy Maclin -- which they did.

What gave Capers the confidence to burden his back seven with intense coverage assignments was knowing that Eagles right tackle Winston Justice -- who was eventually benched for King Dunlap -- could not handle Clay Matthews. (It's curious that Philly did not slide protections and align help-blockers to the right side.) Capers also correctly figured that B.J. Raji would be too much for Philadelphia's interior offensive line to handle.

Raji will be key in Green Bay's next game, as Atlanta employs the purest downhill rushing attack the NFC has to offer. Michael Turner broke tackle after tackle en rout to 110 yards in Green Bay's fruitless Week 12 visit to the Georgia Dome. To prevent a repeat performance, the Packers front seven will have to get stout and adjust from Reid's speed-oriented West Coast sets to Mike Mularkey's power-oriented two-back, two-tight end formations.


7. Coming out party

As was suggested late last week, the Packers found a new backfield weapon in James Starks Sunday afternoon. The sixth-round rookie may be a star in the making (only time, or another 100-yard rushing performance, will tell) but the story heading into Saturday night is the man under center. Same goes for the Falcons.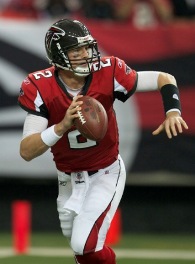 No matter what happens Saturday, an indisputable star will be born. Or, more accurately, baptized. Either Aaron Rodgers or Matt Ryan is going to lead his team to a conference title game. Both are stars already, though without celebrated postseason success, the only observers who truly appreciate the young flamethrowers' greatness are those who study film for a living or those harbor a marriage-jeopardizing passion for fantasy football.

The national notoriety these two quarterbacks receive is not quite commensurate with their level of skill. This is especially true for the 25-year-old Ryan, who will be looking to do what the 27-year-old Rodgers just did: win his first playoff game (prior to 2010, both men had 0-1 postseason records, courtesy of the Cardinals).

Ryan and Rodgers will come away as majestically illuminated stars if their performance matches the one both gave when their teams squared off in Week 12. In that game Rodgers, who threw for 344 yards, tied the score at 17 with a 10-yard touchdown strike to Jordy Nelson with 56 seconds to play. But following that, one of Eric Weems' many outstanding kick returns wound up giving Atlanta the ball at the 49 with 47 seconds to play. From there, Matty Ice calmly completed passes of nine, four, four and three yards to set up Matt Bryant's game-winning field goal.

Rodgers and Ryan have a similar skill set. Rodgers offers slightly better arm strength and scrambling speed, while Ryan plays with slightly more fluidity and fundamental integrity. Both will be a blast to watch, one will take that "next step" in the eyes of fans.


Seattle Seahawks (No. 4 seed, 8-9) @ Chicago Bears (No. 2 seed, 11-5)

8. Mea Culpa (sorta)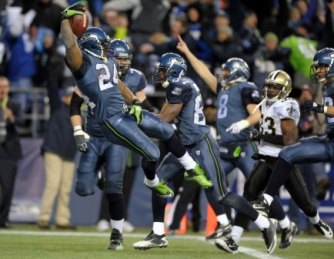 I have received harsh emails from two different fan bases this season: Chicago's and Seattle's. Bears fans called me out early in the season for saying their team's success was a mirage; Seahawks fans called me out late last week for saying their team didn't deserve to be in the playoffs.
To Bears fans: I'm more than happy to admit I was wrong. I incorrectly believed Mike Martz would be unwilling to compensate for Chicago's shoddy offensive line by altering his complex offensive system. Martz was shrewd in the way he employed help blockers into his pass protections and he showed admirable humility (and sensibility) in substituting a few passes for runs.

To Seahawk fans: sorry, no mea culpa here. And no mea culpa is on the way, either. Even if the Seahawks go on to win the Super Bowl, it won't change the fact that they did not deserve to be in the postseason in the first place. I know, I know, the rules state that a division champion gets a playoff spot. So, from a technical standpoint, Seahawk fans are right when they say their team deserved to be in. But it's a flawed system when a sub-.500 team plays in the tourney while a pair of 10-6 teams (Bucs and Giants) sit home.

Divisions are cyclical -- I get that. That's why I'm fine with a 9-7 division champ – and maybe even an 8-8 division champ -- beating out a 10-6 non-division champ for a playoff berth. But when you talk about a losing record getting in? Sorry, the math is too ugly at that point.

Unfortunately, because the Seahawks upset the Saints (again, a well-deserved win, as Seattle clearly outclassed New Orleans on Saturday), the NFL probably won't amend the playoff rule by establishing an eight-win minimum. If this is the case, the league will be putting too much emphasis on the postseason and not enough emphasis on the regular season. That may sound silly, but look at what an uphill battle this kind of distortion has given the NBA.

All this being said, Seahawk fans, this is your time. Make no apologies for your team. Keep gloating and boasting. And keep sending harsh emails with words like moron, idiot, loser and jackass in the subject line to any sportswriter who criticizes your club's postseason presence. Seriously -- that's part of what being a fan is all about. All I ask is that if you were one of the fans who, before Week 17, said that you'd prefer to see Seattle lose to St. Louis and maintain a top 10 draft position, you at least refrain from sending your hate email in all caps (some things should be left for only the true fans).

9. No extended bathroom breaks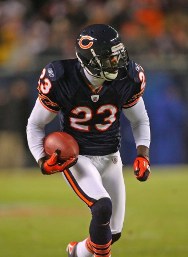 Better stay in the room when specials teams units take the field this Sunday. For the first time in modern NFL postseason history, we have a kick returner with three touchdowns on the season (Leon Washington) facing a punt returner with three touchdowns on the season (Devin Hester). Washington's contributions are remarkable; midway through last season, the then-New York Jet suffered what appeared to be a career-ending broken leg. Hester has also had a resurrection in 2010, though granted, he was never injured. He is the NFL's all-time leader in non-defensive touchdown returns, but prior to Week 3 of this season, Hester had not scored a return touchdown since 2007.
10. Quick Hits: what went wrong for the wild card losers
New Orleans' sixth-ranked '09 ground game dropped to 28th in '10 and proved problematic down the stretch. Of course, the ground game had nothing to do with the plethora of missed tackles and blown coverages at Seattle.
Peyton Manning's genius was not quite enough to overcome Indianapolis' copious injuries (yours truly turned out to be wrong about that one). By the way, did you happen to catch Reggie Wayne's quote after the loss? After Darrelle Revis held him to one catch for one yard Saturday night, Wayne told Mike Chapell of the Indianapolis Star, "It's bull. It's bull, man. I give everything I've got no matter what. Every day, I give it everything. And . . . one ball, that's all. I shouldn't have even suited up. I should have watched the game like everybody else. I was irrelevant."
Chiefs rookie safety Eric Berry looked every bit like the No. 5 overall pick Sunday. Berry – like Seattle's first-round rookie safety Earl Thomas, in fact – might have a little learning to do, but athletically, he's outstanding.
With the offense regressing in the final weeks of the season, it wouldn't be a shock if the Eagles use a franchise tag on Michael Vick, rather than invest a long-term contract in the 30-year-old. Vick's vulnerable health and inconsistent decision-making (wild card game aside) might give a few people in that organization a bit of pause.
For more NFL news, rumors and analysis, follow @cbssportsnfl on Twitter and subscribe to our RSS Feed.