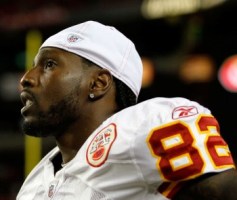 Posted by Will Brinson
You probably remember what kind of game
Dwayne Bowe
had on Sunday, because it was remarkably unmemorable -- the NFL's receiving leader in touchdowns (he was also seventh in yards and 12th in targets) went catchless in
Kansas City's lopsided 30-7 home loss to Baltimore
.
But wh was Bowe so ineffective? Well, the obvious answer is that he was blanketed by the
Ravens
. Still, he wasn't even
targeted
once, and for that, Todd Haley has no answers.
"To have a game like that,"
Haley said via the
Kansas City Star
. "And one of the guys that you've kind of ridden throughout the year appears to be uninvolved in the plan — we've got to do a better job of figuring out ways to get the ball in the hands of our guys that have consistently made plays."
Yes, that is one way of saying "No, I have no idea where our collective offensive creativity went."
Because a double team -- which Bowe saw the entire day -- certainly isn't an excuse for not catching a single pass. That's why there are screens and slants and bubbles and curls and all kinds of offensive innovations. If you want someone to make some plays, you can force them the ball, even if there's not single coverage.
Bowe wasn't the only receiver to disappear in the wild-card round, though.
Reggie Wayne
was so ineffective (and untargeted) that he spent Saturday night complaining.
DeSean Jackson
was injured so he has an excuse, but his first catch didn't come until late in the second half and that's a clear sign that the
Eagles
are trouble.
However, the difference between those two gentlemen and Bowe is that the
Chiefs
' second receiving option on Sunday was
Kevin Curtis
, who summed up his involvement over Bowe's best.
"Probably not a good thing," Curtis said.
For more NFL news, rumors and analysis, follow

@cbssportsnfl

on Twitter and subscribe to our
RSS Feed
.