Posted by Andy Benoit

UPDATE 4:10 p.m. ET:
Pro Football Talk has gone back and put our a major disclaimer on this story. Here is
PFT's Mike Florio explaining
. Judge the story for yourself:
Appearing on one of the station's other shows, Fescoe explained that he received two text messages from patrons of a pizza shop that Weis supposedly frequents. (Fescoe refused to name because he didn't want to give the place "free advertising.") According to the persons who sent Fescoe text messages, Weis was openly stating in the unnamed pizza place that the play-calling duties had been yanked from him at halftime.

Fescoe didn't hear it from Weis, but from two folks who texted him to say that Weis was saying it. And Fescoe then went with it without getting a comment from Weis or from the Chiefs.

----------
When Sunday's Chiefs-Ravens game kicked off,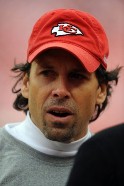 Charlie Weis knew he might very well be calling plays in Kansas City for the last time. What he probably didn't know was that the last time would last less than three quarters. Bob Fescoe of 610 Sports in Kansas City reports (
via Pro Football Talk
) that Haley stripped Weis of the play-calling duties during the second half of the game.
This news is significant for a variety of reasons, none of which shine a flattering light on Haley. For starters, since when is an offensive coordinator -- a multi-Super Bowl-winning offensive coordinator, no less – relieved of play-calling duties DURING a playoff game?
Second, it is now far less believable that Weis chose to take the Florida offensive coordinator job strictly for family and lifestyle reasons. Prior to the season, many doubted that Haley, known for having a big ego, would be able to resist marking up Weiss' offense with his fingerprints. When the pressure was on, that proved to be the case.
What does this say about the chemistry of Kansas City's coaching staff moving forward? And what top offensive assistant will want to go work for Haley?
For more NFL news, rumors and analysis, follow

@cbssportsnfl

on Twitter and subscribe to our
RSS Feed
.