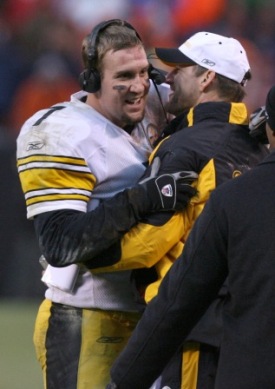 Posted by Josh Katzowitz
The transformation of
Ben Roethlisberger
has been pretty extraordinary this season.
He entered training camp, and he didn't know how his teammates would receive him after more offseason transgressions. He didn't know how his fans would receive him after they gave him multiple chances to win them over. He just didn't know, and clearly, it worried him.
But he impressed his teammates by being personable and humbled at the same time, and
thousands of Pittsburgh fans cheered him
after his preseason practice.
Roethlisberger didn't make much - if any - off-field noise this season, but on the field, he was his same old impressive self, throwing for 3,200 yards (in only 12 games because of his four-game suspension to open the year), 17 touchdowns and just five interceptions. Plus, he played with a broken nose and still managed to beat the
Ravens
.
In the year of
Brett Favre
,
Michael Vick
, Rex Ryan and the upcoming labor dispute, Roethlisberger has almost gone unnoticed. Except for when he's accomplishing positive goals – like getting engaged or being named the team's good guy by the Pittsburgh beat writers.
Today, I asked his former coach and current CBS analyst Bill Cowher what he thought about Roethlisberger's impressive recovery.
"He's accountable for his actions, and he recognized that as well," Cowher said. "He got the suspension, and he had a chance to sit back and reflect. The only thing that was going to take care of (his transgressions) was time. He's said all the right things, and he's trying to do the right things.
"The one thing you'll never question about Ben Roethlisberger is his ability to compete. He's one of the great competitors I've even been around. That Baltimore game epitomized him. He gets his nose broken early in the game, and he's out there at the very end competing.
"He has a solid family. That is important to him. Perception is important to him. He walked into Pittsburgh as a young player, got successful early, and he got caught up in it. But now, he's got plenty of time to change the way people think about him off the field."
For more NFL news, rumors and analysis, follow @cbssportsnfl on Twitter and subscribe to our RSS Feed .