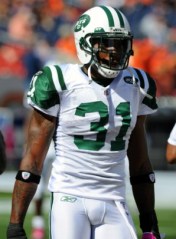 Posted by Andy Benoit

Zero-time Super Bowl champion Antonio Cromartie had some pointed wordsfor three-time Super Bowl champion Tom Brady in Gary Myers' New York Daily News article on Monday . Cromartie followed the lead of head coach Rex Ryan by criticizing the quarterback's post-touchdown celebratory antics. But it's doubtful even Ryan likes hearing a player take it this far:

Cromartie, in his first year with the Jets after four years with the Chargers, backed up Ryan Tuesday when he was asked by the Daily News if he's ever seen Brady pointing after the Patriots score.

"We see that a lot. He does it a lot," Cromartie said. "That's the kind of guy he is. We really don't give a damn, to tell you the truth."
Okay, what kind of guy is Brady?

"An ass----.

"---- him."

Cromartie was asked why he felt this way about Brady.

"That's what I think about him. I don't really give a damn about him," he said. "I don't have to play against him. I play against the receivers."

Of course, those receivers catch balls from Brady, so there's at least something worthwhile to this tiff. However, Brady wouldn't take the bait, saying "I've been called worse."

Which theoretically should have ended the argument, but Cromartie wouldn't let it go when reporters asked about it later, saying that he hopes Brady targets who he's guarding and that he doesn't regret calling Tom mean names.

For more NFL news, rumors and analysis, follow @cbssportsnfl on Twitter and subscribe to our RSS Feed .