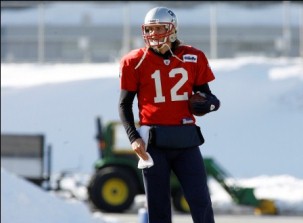 Posted by Andy Benoit

Members of the Jets and Patriots holding their regularly-scheduled chat with the media on Wednesday were all asked the same first question: What do you think of Antonio Cromartie's incendiary comments about Tom Brady? The two reactions people care most about are Rex Ryan's and Tom Brady's.

"I'm not real familiar with them," Ryan said. After media members on the conference call brought Ryan up to speed, the head coach's response was what you'd expect: "First off, in this country, you're allowed to have opinions, and all that kind of stuff. Obviously, as an organization, we respect Tom Brady, there is no question about it. But hey, is there dislike between us and Brady, and Brady against the Jets, of course there is.

"Am I going to punish Cromartie for saying something, or whatever? No. I know one thing, we respect New England, but we don't fear them. A comment like that, it's just the fact they're the enemy as we look at them this week."

Ryan said that the Jets, as an organization, voted for Brady as the 2010 MVP. But, just for a good measure of humor, Ryan referred to the snow that has blanketed New England this week and added, "Brady struggles in bad weather. Go ahead and lay that one out there too."

As for Brady's reaction to Cromartie's comments? "I've been called worse," he said, before adding that the cornerback is a good player.

For more NFL news, rumors and analysis, follow @cbssportsnfl on Twitter and subscribe to our RSS Feed.