Posted by Andy Benoit


Every few weeks,
T.J. Houshmandzadeh
speaks his mind and calls 'em as he sees 'em. And, for whatever reason, we feel compelled to pass along his words. (The guy can be refreshingly honest.) This week, Housh, on Sirius XM's Mad Dog radio (
via Pro Football Talk
), rehashed his release from the
Seahawks
and shared his feelings about Pete Carroll.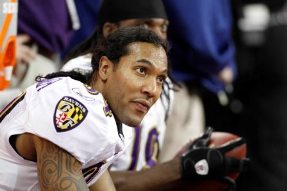 In case you don't recall, the Seahawks released Houshmandzadeh shortly before the start of the season even though they were still on the hook for some $6 million.
"To be honest with you, of course, because I felt like the way it went down -– I don't really want to get into it –- but the way it went down was shady to me," Houshmandzadeh said. "But it is what it is. Hopefully they'll keep winning and we will, too."
Housh suggested that Carroll kept him around pointlessly long after deciding that
Mike Williams
would be the team's No. 1.
"I just felt the way things were going when I was there, I knew what was happening, and I felt like if you're gonna do it, you know you were gonna do it months ago, just do it then," Houshmandzadeh said. "Don't try to string it out and do it that way where it makes it very tough for me to get with a team and contribute. Luckily I was able to come here [to Baltimore] but it is very hard to come to a team the week prior to the regular season starting and contribute in a way that I'm used to doing."
The last part is interesting because it sounds like the veteran wideout might be hinting that he wishes he had a bigger role in Baltimore. Obviously Houshmandzadeh is not going to stir that pot at this stage of the season, but don't be surprised if he speaks up come spring.
For more NFL news, rumors and analysis, follow

@cbssportsnfl

on Twitter and subscribe to our
RSS Feed
.