Posted by Andy Benoit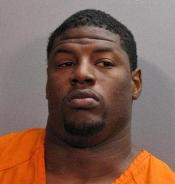 My colleague Josh Katzowitz already wrote about Earnest Wilford's arrest. But something I couldn't resist from commenting on is the former Jaguars' mug shot. Is it me, or has Wilford gotten FAT? In fact, scratch that rhetorical question. It's obviously not me (and you, too) that Wilford has indeed gotten fat. Really, REALLY fat.

Not surprisingly, the veteran tight end was cut by the Jaguars back in September. Given his arrest and the fact that he now appears to be about one-and-a-half Earnest Wilfords, don't be surprised if this is the last you ever hear of the guy. If that's the case, Wilford will be remembered as one of those unique players who was dominant in the red zone but virtually irrelevant everywhere else on the field.

Oh, and he'll also be remembered as the guy who was fat – again, really, REALLY fat (OK, really fat relatively speaking) – in his mug shot photo.

For more NFL news, rumors and analysis, follow @cbssportsnfl on Twitter and subscribe to our RSS Feed.