Posted by Andy Benoit
Did you happen to catch what Al Davis said about Cable Tuesday afternoon? The
Raiders
owner hel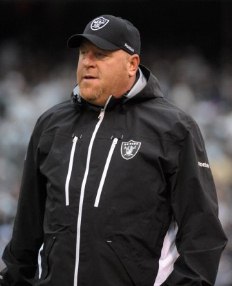 d one of his annual
I hate my head coach and here's why
press conferences. Apparently, because of lawsuits brought against Cable by Randy Hanson (broken jaw guy from '09) and Marie Lutz (a lady Cable was dating…more on her in a second), Davis wanted to fire Cable with six games left in the 2010 season. But he didn't because he didn't want the turmoil to disrupt the team's playoff chances.
On Hanson, the always entertainingly honest Davis said, "When we had the ... Randy Hanson incident, we had a turmoil in our coaching staff. Randy's jaw was broken, to this day nobody is sure how it was broken. We had a spouse accuse the head coach of personal relations that were not good. And at that time there were a lot of people who wanted me to take action."
The Lutz situation is complicated. Lutz was the woman Cable dated before marrying his third wife. She is the one who went on ESPN and accused Cable of domestic violence. Davis says he learned with six weeks left in the season that Cable was not entirely forthcoming about this ordeal last year when accusations first came out. He also learned that the head coach had brought Lutz on the road with him and was "flying in friends so they could be with them the night before the game."
"One of the things revealed by Ms. Lutz was too much for me," Davis said,
according to NBC Bay Area
.
Instead of firing Cable and distracting the team, the 81-year-old owner began fining him $20,000 a week (docked from his paycheck). Cable filed a grievance to recoup those fines.
Lutz's lawsuit, which named the Raiders, was settled out of court. Hanson's is up for arbitration in front of Commissioner Roger Goodell.
As for Cable, he had an eventful day Tuesday. He agreed to become the
offensive line coach in Seattle
.
For more NFL news, rumors and analysis, follow

@cbssportsnfl

on Twitter and subscribe to our
RSS Feed
.