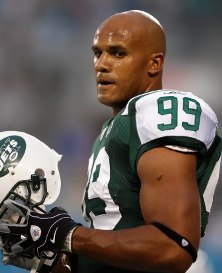 Posted by Josh Katzowitz
Jets
LB
Jason Taylor
missed Wednesday's practice as he continues to recover from a concussion, but don't think for a second that he's planning to forgo Sunday's AFC championship game vs. the
Steelers
.
"This is the ultimate team game. That's what you want. You want the (Super Bowl) ring," Taylor said, via the
New York Post.
"All the other things are great – the Pro Bowls and all that (junk) is fine. But if you're not winning as a team and getting a chance to be a champion, it's not worth it.
"Anybody that's interested I'll tell them about (getting to this point) and let them know that this is not a right. This is something you earn. It's a privilege. It's an honor. And don't take it for granted but definitely take advantage of it."
It's a privilege for Taylor because this season is the first time in his 14-year career that he will have a chance to play for a Super Bowl berth. Considering he's 36 and slightly less effective than he has been in the past – he might as well not even bother dropping back into pass coverage – there's a real possibility this season will be Taylor's last in what has been a pretty glorious career.
Which is why he'll be so gung-ho to play Sunday.
Said Taylor: "Fourteen years to get to where we are today is a long time."
For more NFL news, rumors and analysis, follow @cbssportsnfl on Twitter and subscribe to our RSS Feed .