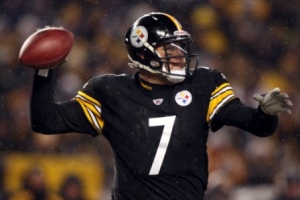 Posted by Josh Katzowitz
Steelers
QB
Ben Roethlisberger
had some candid comments for the
Beaver County Times
when he was asked about facing
Jets
CB
Darrelle Revis
in today's AFC championship game. Basically, Roethlisberger doesn't seem all that interested in challenging one of the two best cornerbacks in the game.*
*Now that I'm thinking about it, maybe Nnamdi Asomugha needs a new PR team. Revis gets all of the headlines, and it's assumed that he is the best CB in the game, maybe because his name constantly is out there. Meanwhile, Asomugha quietly goes about his business, and nobody throws any passes his way.
"As a competitor, you don't want to ever say you are scared of anybody or you don't want to go after someone," Roethlisberger told the paper. "But you've got to use your head. Being a competitor is being smart as well. Knowing how good he is and with all those other guys they have over there, you can't just be like, 'Forget that, I'm a competitor. I'm going after him. I don't care what happens.' You have got to be able to use your head and know when to attack and when not to."
Of course, if Roethlisberger declines to attack Revis' side of the field, he knows he's got another problem.
"Then you get in trouble because you go to the other side and there's (Antonio) Cromartie," Roethlisberger said. "That's why I say this whole defense is so good. It's hard to single out one guy to stay away from because they have 10 other guys, and sometimes it seems like 15 other guys out there that you have to deal with. But to answer your question, absolutely, Revis is a stopper."
It's assumed that Revis will face off against Steelers WR
Hines Ward
today, because Revis blanketed Ward the last time they played. But remember, Ward is a slot receiver who isn't really a game-changer any more. It might make more sense to move Revis to the outside and place him on somebody like
Emmanuel Sanders
(it makes more sense to keep Cromartie on
Mike Wallace
because Cromartie can match Wallace's size and speed).
For more NFL news, rumors and analysis, follow @cbssportsnfl on Twitter and subscribe to our RSS Feed .