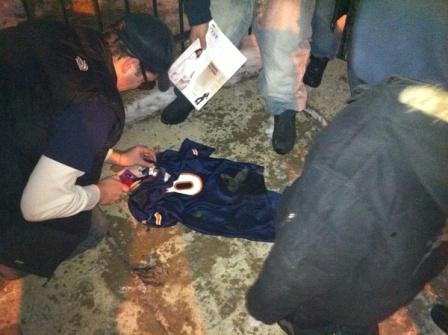 Photo courtesy of
Twitpic.
Posted by Josh Katzowitz
The condemnation came quick and mercilessly.

@RaheemBrock (Raheem Brock – Seahawks DE) "Cutler...wut a sissy! This is the NFC Championship game! Guaranteed if it was brett farve..he would still be in the game!" (and) "Cutler u little siSsy...how does it feel that ur back up's backup is the only 1that can put pts on the board!I bet cutler comes back now!"
Bears
QB
Jay Cutler
was out of the game early in the third quarter with a knee injury, and those in the Twitter world, especially his NFL colleagues, began to brutalize him.

@Jones_Drew32 (Maurice Jones-Drew – Jaguars RB) "Hey I think the urban meyer rule is effect right now... When the going gets tough........QUIT.. (and) "All I'm saying is that he can finish the game on a hurt knee... I played the whole season on one..."
Cutler, out with a knee injury that no one had seen him sustain and that kept him on the bench for most of the second half of the Bears 21-14 loss to the
Packers
, showed no heart. He has no guts. One sweet-looking woman on Twitter – she looks like she makes cookies on the weekends for her children – called him the p-word.

@DBrooks55 (Derrick Brooks – former Buccaneers LB) "BEARS fans I am so SORRY, I have to be crawling and cant get up to come off field,Josh Freeman would not come out, MEDS ARE AVAILABLE
But much of the rancor came from Cutler's fellow players. Most of them would play on a knee injury – any kind of knee injury – if they had the chance to participate in a conference championship game. Like a certain QB from San Diego.
@DBrooks55: "Knee injury has to be VERY VERY INJURED, if you come out, Philip Rivers p[layed on torn acl now its pick,seriously JAY CUTLER"
Cutler left the field a few seconds early at the end of the first half, and he was one of the last Bears on the field to begin the second half. After one series, he was done for the day.
@kerryrhodes (Kerry Rhodes – Cardinals safety): "Cmon cutler u have to come back. This is the NFC championship if u didn't know."
I guess the issue now is how his teammates will view him. Is he not tough enough? Did he quit on his teammates?

@Thepresidentcb (Asante Samuel – Eagles CB) "If he was my teammate I would be looking at him sideways."
Hell, would his teammates even allow him to dress in the same space as they did after the game?
@ddockett (Darnell Dockett – Cardinals DT) "If I'm on chicago team jay cutler has to wait till me and the team shower get dressed and leave before he comes in the locker room! #FACT"
So, let's hear from one of Cutler's teammates. A guy who most likely knows Cutler better than anybody else on Twitter. A guy who watched the Bears offensive line allow an NFL-high 56 sacks behind a mediocre offensive line, a guy who watched Cutler continue to rise from those sacks to take even more punishment.
"A lot of jealous people watching our game on TV when their season is over," Bears LB
Brian Urlacher
said when he was told many NFL players were blasting Cutler on Twitter. "Jay was hurt. We don't question his toughness. He's tough as hell. He doesn't bitch, he doesn't complain when he gets hit."
Will the comments from his teammates - C
Olin Kreutz
indicated to reporters
he thought Cutler had a torn ligament
and that he couldn't believe Cutler came out for the second half at all - change the public's perception of Cutler? Probably not. If Cutler – who declined after the game to comment on those questioning his toughness – is diagnosed with a torn ACL, will people walk back their words? Doubtful. If he needs major surgery, will people apologize for their snap judgments? No chance.
The die already has been cast for Cutler. His reputation will suffer. It might follow him for the rest of his career.
People won't forget this, no matter the reasons he couldn't play. People still will want to burn his jersey. His career will be tainted by this. It's unfortunate.
For more NFL news, rumors and analysis, follow @cbssportsnfl on Twitter and subscribe to our RSS Feed .