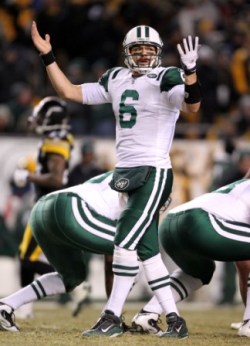 Posted by Josh Katzowitz
The
Jets
were losing badly to the
Steelers
at Heinz Field on Sunday, and it was pretty freezing outside. Making matters worse, though, was that New York QB
Mark Sanchez
, at times, had a tough time communicating with his coaches because the headset he was wearing kept malfunctioning.
Though it might sound like Pittsburghian subterfuge, that's not how the Jets were playing it afterward.
"It never really happened for that long of a time," Sanchez said, via
ESPN New York.
"We had to use a walkie-talkie at one point and (offensive coordinator Brian Schottenheimer) was just yelling calls in at one point. It was just another challenge, and we almost overcame it."
According to the story, the primary headset stopped working after the first possession, and the backup failed with about 8 minutes to go in the game when the Jets were trying to get into the end zone from the 2-yard line.
Which is an unfortunate time for that to occur.
From the story:
Sanchez had to run over to the sideline to talk to Schottenheimer. He also needed to yell out the calls to others on the offense as the Steelers fans at Heinz Field roared over the confusion.

"The problem was the headset kept going out multiple times during the game," Sanchez said, "so I had to run over and get a couple calls, piece together some calls on the headset that came in broken up. It was one of those things we were fighting through. I was proud of our guys for trying to piece it together."

Jets tight end Dustin Keller said the offense had to rush a few times because of the time it took to get the calls communicated. On that goal-line series when the problems were magnified, the Jets turned the ball over on downs after failing to gain 2 yards in four tries.
For more NFL news, rumors and analysis, follow @cbssportsnfl on Twitter and subscribe to our RSS Feed .