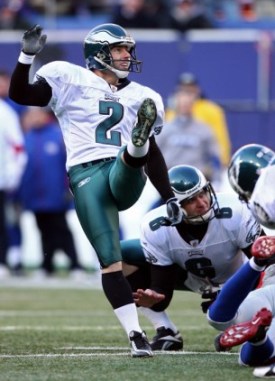 Posted by Will Brinson
David Akers
surprisingly missed two fairly easy field goals against the
Packers
in the
Eagles
playoff loss -- one from 41 and one from 34.
Given that Philly lost by just five points, Eagles fans weren't exactly thrilled with their long-time kicker (and neither was Andy Reid, who cast some blame Akers' way following the loss). But it turns out, Akers had a pretty good excuse: His 6-year-old daughter was in the middle of a cancer diagnosis.
According to Ashley Fox of the Philadelphia Inquirer
, doctors informed Akers on Friday night that his daughter, Halley, would need a cyst on her left ovary removed through surgery.
"It was just kind of a smack of reality," Akers said.
The doctors didn't actually diagnose Halley with cancer that night, but Akers, who routinely works with a local children's cancer hospital, knew what they meant.
"They used the word tumor or cyst or growth," Akers said. "And you're like, 'OK, what does that mean?' Cancer is what that means."
Fox writes that Akers "disintegrated over the news" ... except he went out less than 48 hours later and managed to kick in an NFL football game.
"You just think about your little girl," Akers said. "I think for me as a father it was harder than for her mother, because you think of her as 'Daddy's little girl.' "
There's a numerical argument that Akers cost his team a chance to advance to the playoffs. But there's also a "the Packers out-coached, -played and -smarted the Eagles" argument.
And, most importantly, there's a point to be made here that while football is important, a playoff game -- for even the most championship-desperate city like Philly -- is worth nothing next to the health of a six-year-old girl.
Hopefully every Philly fan (and/or coach) who was willing to speak out against Akers' performance (in spite of what he was going through) has the stomach to publicly apologize as well.
For more NFL news, rumors and analysis, follow

@cbssportsnfl

on Twitter and subscribe to our
RSS Feed
.