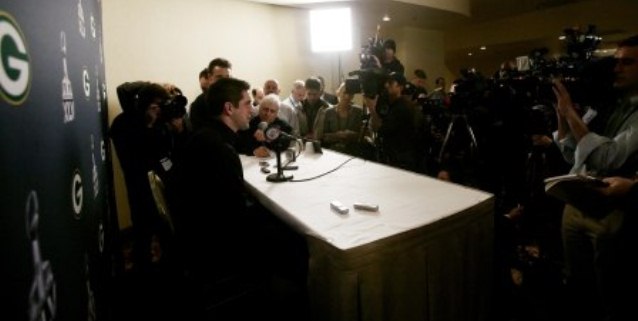 Posted by Andy Benoit

IRVING, Texas -- The media got a police escort from the Sheraton to the Omni Mandalay at Las Colinas in Irving for the Packers' Monday evening press conference. The three buses that were scheduled to leave at "4:00 sharp" took off around 4:30. As they raced down the empty streets, Dallas denizens lined the sidewalks, waving and snapping photos (they thoughts members of the Green Bay Packers were behind the tinted bus windows).

Aaron Rodgers, Greg Jennings, Donald Driver, Charles Woodson, A.J. Hawk and Clay Matthews were the only players made available. With Mike McCarthy's press conference taking place a few rooms over, hundreds of media members crammed into a basement lobby to score a prime position around the players' tables. Some tables were less crowded than others (see photos of Rodgers' table vs. Jennings' table….both photos were taken some 15 minutes before the players arrived).

Once the players came in and the questions started firing, the entire scene became somewhat of a cluster….the entire scene became chaotic. Going off strict observation, a reporter's job is to ask a player a loaded, leading question before any other reporter can ask them a loaded, leading question. More entertaining than the players' response (which is one of three things: canned, clichéd or politely evasive) are the facial expressions of all the reporters whose questions weren't heard. A lot of people are left feeling like their toes have been stepped on.

And when a player does go outside the lines, he's playing with fire. Jennings was asked if he told the guarded Rodgers to let his hair down this week. Jennings' response – "I told him to spike his hair up" – was met with stone silence. Damn him, he wasn't making the writers' jobs easy.

Donald Driver made reports' jobs easy, if a reporter was looking for a quote that involved the phrase "confidence level is high". Each table has microphone and a speaker so that players can be heard. No joke: Driver's speaker sounded like it was replaying the same audio clip again and again.

Back on the bus, writers flipped through notebooks of sloppy handwriting and replayed bites of mildly-garbled sound. They compared quotes and discussed amongst themselves the spin they would put on it (you'd be surprised how much spin is involved).
No police escort on the way back, which explains why the people of Dallas no longer acknowledged the bus.

For more NFL news, rumors and analysis, follow @cbssportsnfl on Twitter and subscribe to our RSS Feed.