Posted by Andy Benoit

DALLAS -- From the "unsung heroes" department we spotlight the Green Bay Packer guards. Unlike most offensive linemen, the spotlight is something these two enjoy. Left guard
Daryn Colledge
was a communications major at Boise State and hopes to get into broadcasting after his playing career. Right gua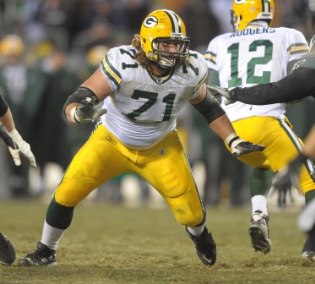 rd
Josh Sitton
is the type who loves shock value. Told there would be a story about him and Colledge, he opened up the interview by saying, "Daryn Colledge is an a******."
Sitton eventually took the interview seriously, talking about his breakout 2010 campaign."Obviously there's always competition in this game, but coming into this season I was pretty entrenched at the right guard spot, I knew it was going to be my job and so I could focus on me, focus on the little things, focus on the details," he said.
Sitton declined to rank himself amongst NFL right guards, but most neutral experts will tell you he's now somewhere near the top five. The third-year pro thrives in pass protection and has emerged as Green Bay's most mobile run-blocker. He gets off his first block and delivers contact at the second level as smoothly as just about any player in the game.
His running mate College has always had adequate mobility; it's been his consistency in the trenches that has wavered in past years. But playing all 16 games at the left guard position for the first time in his five-year career led to a breakthrough season (just in time for his second contract, no less).
"I have some things I'd like to do better, but being my first year that I didn't have to move around, I feel like I've played strong," Colledge said.
Pressed for specifics as to how he can improve, he replied, "I think everybody wants to play (with lower positioning), we want to be better in the run game. For me, just physically improving every single year is the goal. As soon as you get stagnant, you're probably going to get replaced."
Getting replaced has been a constant threat in Colledge's career. Before this season, training camp benchings were somewhat of a ritual for the former second-round pick. Not anymore.
"Daryn Colledge has played a lot of football for us. He is a very reliable individual," Mike McCarthy said. "He doesn't miss practice, is very consistent."
As for Sitton?
"I think Josh has come into his own the last two years," McCarthy said. "In my opinion, I think he is playing at a near Pro Bowl level."
Best of all is that the
Packers
can reasonably assume that both their guards still have yet to reach their full potential. Sitton, in particular, is destined to become an upper echelon blocker. "You can always get better. You're never going to master this game," he said.
For more NFL news, rumors and analysis, follow

@cbssportsnfl

on Twitter and subscribe to our
RSS Feed
.