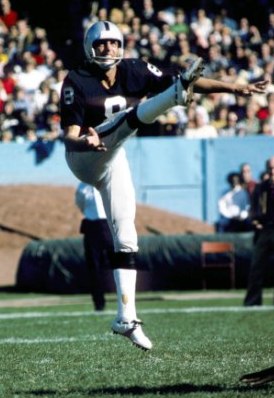 Posted by Josh Katzowitz
DALLAS –
Tim Masthay
surprised me the other day. I was asking him about punters and about the Hall of Fame and if punters deserved consideration for induction into Canton, Ohio's most hallowed grounds.
Especially with the 44 sports writers voting for the 2011 Hall of Fame class this Saturday in Dallas, I asked Masthay about punting pioneer Ray Guy (who's not on the finalists list this year, by the way) and if Guy should be allowed to break the punting barrier.
I expected a defense of Guy – or, at the very least, an explanation of why punters SHOULD be voted in. That's not what I got from the
Packers
punter, though.
"I really don't feel that punters are snubbed that much or that they don't get the credit that's due to them," Masthay said. "I guess punters are like any other position in the sense that they can have a big impact on the game, but I don't know all the criteria for getting in the Hall of Fame. Whether or not we should qualify, I'm not really sure. I really couldn't say yes or no. But I know punters can be a big factor in games."
Right, like the NFC championship game vs. the
Bears
, when after Green Bay's offense stalled out for much of the contest, Masthay's booming punts kept the Bears offense in bad field position while making returner
Devin Hester
largely irrelevant. One could argue that Masthay was the MVP of that game. If a game like that doesn't engage a conversation, what will?
"I don't really worry about that stuff," Masthay said. "I can see why it's tough, because the most you're going to play is about eight plays in a game. I don't really feel that punters are snubbed to be honest."
I disagree. The only pure kicker in the Hall of Fame is Jan Stenerud, though that might change five years after
Adam Vinatieri
retires. But Guy was such a big part of revolutionizing the game with his talent and style. Hell, he's been a finalist seven times but hasn't taken that next step.
"He brought punting into the modern era, and if there was a patron saint of punters of the league, he's it," said Joe Reedy, the
Bengals
beat writer for the
Cincinnati Enquirer
and a Hall of Fame voter. "And he should be in. But with all special team players, it's difficult. We see the backlog of players just among the final 15. I think all of them deserve to be in, but you can only get so many of them in at the same time."
Reedy thinks Guy eventually will make his way into the Hall of Fame, but I'm beginning to have my doubts. Masthay doesn't seem to mind either way.
"You look at the selectors, and every year, there are two to three different guys that cycle in who are new that kind of change the persona or change the outlook a little bit," Reedy said. "Most of us growing up saw the special teams age and saw how valuable Guy was. It slants it more and more in his favor."
[More Super Bowl coverage]
For more NFL news, rumors and analysis, follow @cbssportsnfl on Twitter and subscribe to our RSS Feed .