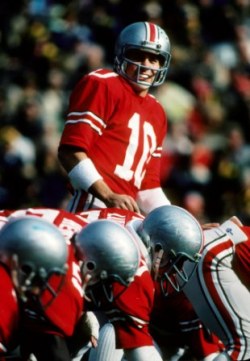 Posted by Josh Katzowitz
One of the great quarterbacks in Ohio State history, Art Schlichter, has been in and out of prison for much of the last 30 years because of the need to feed his self-confessed gambling addiction.
In fact, he's been to prison or jail 44 times, mostly for fraud and forgery and writing bad checks.
After he was released from prison in 2006, he vowed to a reporter that he would stay clean, and he wrote a book in 2009, called
Busted: The Rise and Fall of Art Schlichter
that told his tales of highs and lows and about how his gambling addiction helped ruin huge parts of his life.
Apparently, he's back at another low spot.
According to the
Columbus Dispatch,
Schlichter is the target of a federal and local investigation "centering on a sports-ticket scheme that has swindled numerous people out of several million dollars."
The big payoff was supposed to come around the Super Bowl, where Schlichter was going to sell dozens of tickets for hundreds of thousands of dollars. According to the
Dispatch's
sources, though, Schlichter couldn't deliver the tickets, meaning some of his buyers are stranded in Dallas with no way to get into the game.
Schlichter, when contacted by the paper, said he would turn himself into authorities in the near future, writing in a text message, "It will help a lot of people. This addiction is a [expletive]."
In a life gone wrong, it's just another sad, yet entirely predictable, moment for Schlichter.
For more NFL news, rumors and analysis, follow @cbssportsnfl on Twitter and subscribe to our RSS Feed .