Posted by Andy Benoit

If you're a jingoistic American who doesn't like seeing NFL regular season games being played across the pond, you'll see a bright side to the NFL labor strife. Alex Marvez of Fox Sports says that the annual game in London is on hold until a new Collective Bargaining Agreement is reached.

The league is planning on playing the game in 2011, but only if a new CBA is reached in March.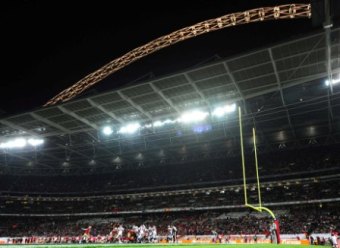 "We are going through the preparation right now," Chris Parsons, the NFL's VP of international business said. "We are working with the (NFL) scheduler to make sure if we do get the CBA done by a certain time that we will actually be able to execute that game. Normally we announce the game at this time of year, but we've chosen not to do that because of the uncertainty."

Because of the logistics involved, the NFL normally has to schedule the game sometime in February. However, with several years of experience with playing in London now, the league may need less prep time in 2011 than usual. It's also possible that the league could salvage the game by playing it later in the season, as opposed to in October.

"We're going to hold out to play the game as long as possible," Parsons said. "The closer it gets to the start of the season, the harder this gets to do."

Marvez writes, "The lack of a London game would disrupt the momentum the NFL has gained in the market. All five of the previous Wembley Stadium contests were sellouts. The league also is expecting a record rating for Super Bowl XLV in the United Kingdom (final numbers are still being tabulated)."

He also points out that NFL postseason ratings on Sky Sports television in Britain increased 60 percent this past year.

The NFL is more than eager to expand its British presence. There has been mention of eventually putting a team in London.


For more NFL news, rumors and analysis, follow @cbssportsnfl on Twitter and subscribe to our RSS Feed.