Posted by Andy Benoit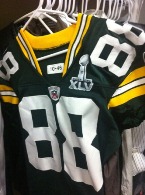 It's hard not to like
Jermichael Finley
. He's outgoing, honest, humorous and insanely talented. This is part of the reason virtually everyone took his side during the little team photo controversy (
Come on, so he's on IR – no big deal; let the guy in the photo!
seemed to be the sentiment.)
Those who
follow Finley on Twitter
know that the tight end has been unabashed in his euphoria regarding the
Packers
' Super Bowl XLV victory. Because Finley is so likable, few have pointed out that the team pretty much won the title without him (he went on IR in October).
But on Monday, Finley made it difficult for observers to continue to smile and go along with his Super Bowl chest thumping. He tweeted out a picture of his green 88 jersey with the Super Bowl logo on the breast, saying, "Super Bowl Jersey. Taking it to get framed."
Really? Framing an
unused
game jersey?