Posted by Andy Benoit

Another day, another franchise tag. This time it's the Chi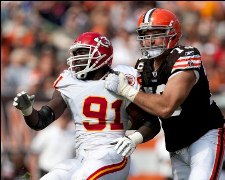 efs slapping Tamba Hali. The five-year pro is coming off a career season in which he recorded 14.5 sacks.

Drafted as a 4-3 pass-rushing end, Hali has transitioned well into a 3-4 outside linebacking role. He's one of the most energetic, dynamic edge defenders in the game. He sheds blocks extremely well and has rare backside pursuit skills against the run.

Hali unofficially led the league in "sacks that got away" his first four years as a pro. His relentless pursuit finally translated into more quarterback takedowns in 2010. Now, in 2011, he'll be rewarded with a one-year salary that pays him the average of the top five defensive ends in football (defensive end, not outside linebackers…his agent will probably take issue if the Chiefs try to argue that Hali is an OLD).

Chiefs G.M. Scott Pioli said, "Tamba is a key contributor to our football team, and we have a tremendous amount of respect for him both personally and professionally. We want Tamba to remain a member of the Chiefs, and we will continue to work together with the hope of reaching a long-term agreement."

For more NFL news, rumors and analysis, follow @cbssportsnfl on Twitter and subscribe to our RSS Feed.