Posted by Andy Benoit

The most sought-after free agent this offseason (barring a lockout, of course) will be
Nnamdi Asomugha
. The former Raider is one of just two true shutdown corners in the NFL today (you can probably guess who the other one is).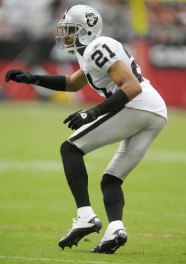 There have been whispers about Asomugha and that other shutdown corner joining forces in New York. But
Pro Football Weekly
believes Asomugha could wind up in Philadelphia.
This would give the
Eagles
a dynamic cornerbacking tandem: Asomugha on one side and
Asante Samuel
on the other. But a word of warning. Two words of warning, actually. One, Asomugha is more of a man-to-man corner, while Samuel is almost strictly a zone defender (more specifically, an "off coverage" defender). The Eagles would not change the scheme for Asomugha, which means he'd have to learn to play zone. No biggie, but something to think about.
The other thing to think about is how often expected dominant cornerbacking tandems wind up failing. Remember when Dre' Bly joined the
Broncos
to play opposite
Champ Bailey
? Remember Fred Smoot going to Minnesota to team with
Antoine Winfield
? How about
DeAngelo Hall
to the
Raiders
to play across from Asomugha?
In a "dominant tandem", what often happens is the once-feared No. 1 corner ends up becoming the No. 2 corner. Teams are forced to throw on that corner, and when they do, that corner winds up being exposed. Why? Because it's hard to play cornerback in the NFL.
The reality is most players truly can't shut down athletic wide receivers on a regular basis. The only reason they seem to do so is because when they're clearly the best corner on their team, it's just easier for opponents to throw away from them. What gets lost is that throwing away from a corner doesn't necessarily mean that quarterbacks CAN'T throw at that corner – it just means it's easier no to. But that's all tossed out the window when you form a dynamic cornerbacking duo.
Asomugha will be the hottest name in the 2011 free agent market. Just remember, one shutdown corner plus one shutdown corner almost never equals two shutdown corners.
For more NFL news, rumors and analysis, follow

@cbssportsnfl

on Twitter and subscribe to our
RSS Feed
.