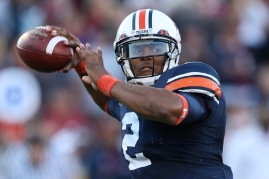 Posted by Will Brinson
Cam Newton,
the 11th overall prospect on CBSSports.com's list
, is on a tour-de-force media campaign with UnderArmour right now (although, ahem, they haven't called ME since
his recent signing with the company
) as he makes sure that people know who he is before the Combine and NFL Draft.
Just in case, you know, the entire "my dad might have gotten paid to send me to college" and "I'm awesome enough to single-handedly get Auburn a national title" storylines from the past year didn't get everyone's attention.
Newton's slinging lines, too, in these interviews.
I see myself not only as a football player, but an entertainer and icon,"
Newton told Peter King of
Sports Illustrated
.
Lest you think he's arrogant because of that, well, he's not. Or he is and he knows it. One of those.
"I don't want to sound arrogant but I did something in one year people couldn't do in their whole collegiate careers,"
Newton told Yahoo! Sports' Dan Wetzel
in a separate interview. We had a chance to do something great and we did it."
Auburn most certainly did something special (the only question is how long that title will hold up) but I'm with Clark Judge on this one --
Cam needs to "get another line,"
when it comes to things he's planning on saying to the press and NFL teams.
What he needs to do is show NFL teams he's ready to step in and be a humble contributor (a la
Tim Tebow
) willing to work on developing his natural talent into a full-blown NFL career.
But then again, maybe Newton's on to something -- I've heard the
Panthers
are highly interested in drafting a "marketable star" with their top overall pick, and if Newton plays his cards right and can prove he's a franchise quarterback, he could end up at the top of the draft.
Which, oddly enough, is
exactly where Chad Reuter had him in his most recent mock draft
.
For more NFL news, rumors and analysis, follow

@cbssportsnfl

on Twitter and subscribe to our
RSS Feed
.