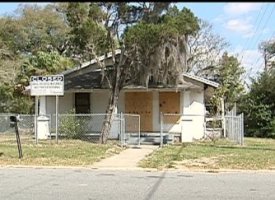 Posted by Josh Katzowitz

UPDATED (9:15 p.m.):
Here is Clark's response, via text message to the
Chicago Sun Times:
"People know who I am and what I stand for and if the city wants to play hardball because I had bad tenants, then that's fine. I've been trying to help them help me for the last year and a half to get the bad tenants out.
"Does any(one) think I want that going on in one of my many rental properties?
----------
According to Bay News 9, a home owned by Bears TE Desmond Clark has been seized by Lakeland, Fla., police, because known prostitutes and drug dealers frequently were spotted spending time there.
"This has been a thorn in our side, I want to say for at least four years," officer Adrian Rodriguez told the TV station.
Rodriguez said he and Clark have had phone conversations and that Clark agreed that the property is a problem.
But on Jan. 15, after seeing no progress, the City's Nuisance Abatement Board decided to shutter up the rental property, meaning Clark and his landlord brother, Ralph Wilson, lose ownership rights for a year.
Here's hoping Clark isn't counting on those rental fees in lieu of a lockout. Because he's not going to be making any money on it for 2011.
Photo courtesy of Bay News 9
For more NFL news, rumors and analysis, follow @cbssportsnfl on Twitter and subscribe to our RSS Feed .