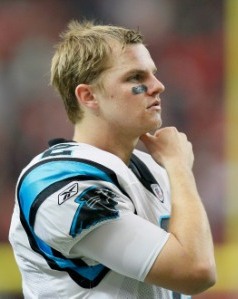 Posted by Josh Katzowitz
Give props to
Panthers
QB
Jimmy Clausen
for his honesty. But take away huge demerits for a seeming lack of confidence. Or maybe give him back those points for knowing his limitations.
In a radio interview today with WQAM in Miami, via the
Charlotte Observer,
Clausen, when asked if he was ready to be the starting quarterback last year, replied simply, "I don't know."
From the (partial) transcript:

What his rookie season in the NFL was like:

"You know it was definitely a tough season for us going 2-14. We definitely had a lot of ups and downs, mostly downs this season, but the biggest thing I am going to take away from this season is just the experience and just going through the entire season struggling and going through that adversity. I think that is just going to help us down the road and there is a lot of things I learned. I picked up the speed of the game, more knowledge of playing in the National Football League and just trying to make plays out there. Like I said, I dealt with a lot of adversity this year and I just think that it is going to help down the road."

Whether he was ready to play when he became the starting quarterback last season:

"I don't know. You always have to be ready to be called on. That is what they drafted you for. Some guys have that time to be able to sit back and watch and I got to do that for the first three quarters of the game in the first game of the season and I got thrown in there on the last series cause Matt Moore went down, but you just have to be ready to go from day one. I think it was a tough situation but at the end of the day it is only going to help me get better."

So, there you go Panthers fans. Your starting quarterback didn't know if he was ready to play last season. Hopefully, for the Panthers sake, he'll know the answer to that question in 2011.
For more NFL news, rumors and analysis, follow @cbssportsnfl on Twitter and subscribe to our RSS Feed .