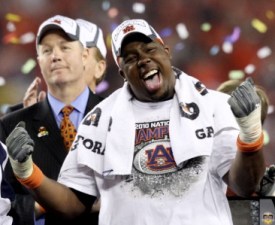 Posted by Rob Rang
Much of the attention following the Combine has been centered on the team interviews with quarterbacks Cam Newton, Ryan Mallett and others, but according to three sources from different clubs, it is another high profile player who set off the most alarms at the Combine.
Auburn defensive tackle Nick Fairley was described as a "JUCO kid to the core" by one longtime personnel man, speaking on the condition of anonymity.
By "JUCO" the source is, of course, referring to the fact that Fairley played junior college football (Copiah-Lincoln Community College) prior to starring at Auburn. Asked to elaborate why being a "JUCO kid" is a bad thing, the source explained.
"Just because a player went to a junior college doesn't mean, he's a bad guy or won't be successful at this level, obviously. There are lots of junior college players who have gone on to great NFL careers."
The stereotype is that JUCO players aren't as smart, hard-working, and well coached. They are also viewed by many clubs as players most likely to have had off-field troubles in the past and potentially more in the future. The source refused to go into specifics, but said, "Everyone is coming down hard on the quarterback, but [Fairley] is the one to worry about."
Despite measuring in at a shade under 6-4 and lighter than expected (291 pounds), Fairley "looked soft," according to the source. This first impression of Fairley's conditioning was only reinforced by his "limited" understanding of defensive schemes during team interviews. The source also referred to the fact that Fairley doesn't use his hands well and has been able to be successful largely due to his natural talent.
"Oh, I'm not saying he's not talented. Hell, he might be the most talented player in the whole damn thing. But, he's no slam dunk at this level. Not the slam dunk people who watched him tear up the SEC or in the big game [BCS National Championship] might think."
The other sources weren't as forthcoming with details, but didn't sound surprised when I told them I heard that Fairley was slipping down boards and that, as such, I had pushed him from No. 2 in the mock draft I'd written prior to the Combine
to No. 8 in my current one.
This post was cross-posted from Rob Rang's NFL Draft blog. For more NFL news, rumors and analysis, follow @cbssportsnfl on Twitter and subscribe to our RSS Feed .