Posted by Andy Benoit
When the
Bengals
' 2010 season mercifully came to an end, many assumed that
Cedric Benson
would not want to return to Cincinnati. A year after rushing for over 1,200 yards, the veteran running back dissolved into somewhat of an afterthought.
Benson's rushing attempts dropped from 23 per game in '09 to 20 in '10. His yards per carry plummet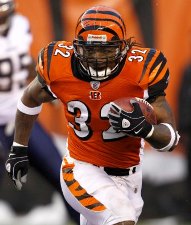 ed from 4.2 to 3.5.
The problem was not Benson so much as the system he was in. After the Bengals signed
Terrell Owens
, offensive coordinator Bob Bratkowski felt compelled to operate a pass-first scheme based on predictable five-and seven-step drops. There was never a rhythm to Cincy's once-powerful ground attack.
Bratkowski, who had been with the team even longer than head coach Marvin Lewis, was fired in February. That move may ultimately convince Benson, a free agent, to stick around.
Helping matters for Benson is the departure of Terrell Owens and possible departure of
Chad Ochocinco
, which will trim some passing pages from the playbook. Oh, also trimming passing pages could be the issue of replacing
Carson Palmer
.
Shortly after the Bratkowski firing, the Bengals hired Jay Gruden to run the offense. Gruden presumably has a predilection for the short-passing West Coast system (Gruden has never worked in the NFL, but that brother of his had some success running a West Coast oriented system in Oakland and Tampa Bay).
Despite Gruden's passing background, Benson, however, seems eager to play for the new coach.
"We had an interesting conversation about a lot of things," he told
Joe Reedy of the Cincinnati Enquirer
. "We have a lot of things in common as far as the way we see the game."
Gruden said of Benson, "I would love to have him back. He's the type of guy who wants to do well and that's what we need. A physical back we can hand the ball to 20 to 25 times a game if we need to if we have the young quarterback."
That last tidbit – "if we have the young quarterback" – is interesting. The Bengals are insisting they won't give in to Palmer's trade demands. (Palmer is threatening retirement if they don't.) But it sounds like their new play-caller is at least exploring the possibility of a Palmer-less offense in his head.
Palmer or no Palmer, featuring Benson would be the smart move. For one, the guy is a clever, patient runner with a good burst and underrated lateral agility. He also has the durability to get stronger late in games. For two, the Bengals do not have an athletic offensive line, which is something that can be masked by run-blocking but is exposed in pass protection.
If the Bengals do bring Benson back, it will likely have to be in a multi-year contract.
For more NFL news, rumors and analysis, follow

@cbssportsnfl

on Twitter and subscribe to our
RSS Feed
.