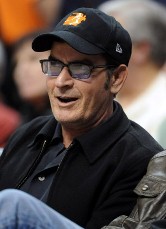 Posted by Andy Benoit

We tried our best to not take part in the absurd Charlie Sheen hoopla. We really did. We're an NFL blog.
From an NFL standpoint, avoiding the Sheen topic is easy. But from a blog standpoint, it's nearly impossible. Our blogger side is getting the better of our NFL side on this one.
So here's the Sheen story ...
The downward spiraling actor re-appeared on the Dan Patrick Show Wednesday and made a joke about Ryan Mallett (we're waiting to hear back from various scouts and GMs on whether being mocked by Sheen helps or hurts a player's draft status).
Here's the exchange between Sheen and Patrick (via
National Football Post
):
Sheen: "Hey, can you call Ryan Mallett back and tell him that he left his bong, he left his herb, his sensimilla, he left it all at my house," Sheen said with laugh, "and I'm like, 'I'm drug-free – come get this stuff, young man!'"
Patrick: "He's drug-free, too."
Sheen: "Yeah, I know. It was a big joke. Yeah, yeah yeah ... come on."
Mallett can only hope he develops Sheen's reputation not for drug use, but for WINNING.
For more NFL news, rumors and analysis, follow

@cbssportsnfl

on Twitter and subscribe to our
RSS Feed
.