Posted by Andy Benoit

Something to keep in mind amidst all the te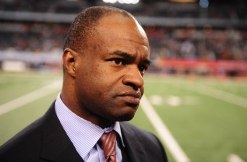 nse labor negotiations between "millionaires" and "billionaires" is that these millionaires didn't become millionaires by being flexible and willing to settle for less, and these billionaires for darn sure didn't become billionaires by doing that.
Throughout their entire lives, these players and owners have grown accustom to not just winning, but winning with authority. We're talking about alpha male athletes vs. alpha male businessmen, with a few alpha male lawyers sprinkled in.
Yet people remain surprised that these two sides continue to bicker. How is it these rich guys can even risk letting their greed kill the golden goose? Because it's their innate "greed" that created the golden goose in the first place. What most people see as greed, the individuals see as justice.
The biggest myth from all the CBA talk is that fans aren't interested in this fight between millionaires and billionaires. Hogwash. Fans ARE interested. Fans might prefer to have games played, but at this point in March, the drama of labor strife has made for great entertainment.
During combine week in Indy, Peter King and a handful of other NFL writers hosted what amounted to a town hall meeting where fans could ask any football question to the room. For the first 50 minutes, every question was about labor issues. Every question. It helped the NFLPA spokesman George Atallah and NFLPA executive committee members
Chester Pitts
and
Fabian Washington
were in the room. But even after they left, the interest in the subject remained palpable. Several times the conversation was jerked to football, only to naturally drift back to labor.
The NFL is as much a reality TV show as it is a professional sports league. Labor unrest is scary to think about from a long-term perspective, but the deadlines, rhetoric and doomsday threats make it compelling entertainment in the short-term.
If you don't believe it, you weren't following the events live as Friday's 5 p.m. EST approached.
For more NFL news, rumors and analysis, follow

@cbssportsnfl

on Twitter and subscribe to our
RSS Feed
.