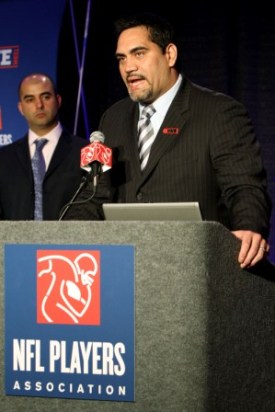 Posted by Josh Katzowitz
Since the NFL has released a ton of statements this past weekend – in effect, saying the players walked away from the negotiating table and that the decertification of the NFLPA was a sham – the players took a shot at fighting back at the owners this afternoon through the media.
And, with
Saints
QB
Drew Brees
,
Colts
C
Jeff Saturday
and former union president Kevin Mawae on a national teleconference call, the tone the players presented was defiant – not to mention completely pissed off.
Here's what it boils down to for the players: the owners refuse to show them their audited financials. Therefore, they will not make a deal on giving back money, in particular the additional $1 billion slice off the top of the league's revenues that the owners have requested. At this point, with an April 6 preliminary injunction hearing set in front of Judge Susan Nelson, don't expect the players and the owners to negotiate any further.
This one, it's looking like, will be decided by the courts.
Unless the owners open their books.
"We have access to those revenue numbers," Brees said. "We don't have access to the cost numbers. As we watch the NFL grow and grow and grow – it grew 7.5 percent last year in one of the worst economies in our history – for the owners to come to us and say, 'Costs are going up faster than revenues,' a very reasonable and logical businessman would say, 'Let's see those numbers and try to make it work.' Then, that person says, 'No, you'll have to take our word for it.' That doesn't work. It's impossible to negotiate a fair deal when you don't have the numbers from the other side."
This essentially was the theme of the 50-minute conference call. No open books, no negotiated deals (seemingly every answer given by the players somehow worked toward that thought). That, and it was clear that the players don't trust the other side.
"We have asked ever since May 8, 2009, for them to turn over their audited financials," said Mawae, who also said the players were willing to take a $1 billion equity stake in favor of cost credits but were turned down by the owners. "It's continued to be asked every time they've asked for a giveback. We want justification.
"Any time somebody says, 'Give me $1 billion and we'll pay you back,' I'll want to see your numbers. They said no."
The players on the call – and spokesman George Atallah – seemed intent on painting the owners as unwilling to negotiate, and though it seemed in the early part of last week that a deal potentially could get done, Atallah said, "The perception is that we were really, really close. The reality is, we really, really weren't."
That said, the negotiations the past two weeks in Washington weren't a total failure.
"There were a number of areas – the smaller areas that we started with – where we definitely made traction," Saturday said. "That was because of the mediation process – to start on details that were pretty close anyway to get the communication going. It was effective. We did move in a lot of areas."
Just not in the key areas, of course.
"Any communication, any realistic proposal or if they'd like to provide those ten years of audited financials to a third party so we could reach a deal, I'm sure we'd be open to that," Brees said. "We're very much in the process that we've been forced into; the decertification and the injunction so we can play football next year.
For more NFL news, rumors and analysis, follow @cbssportsnfl on Twitter and subscribe to our RSS Feed .