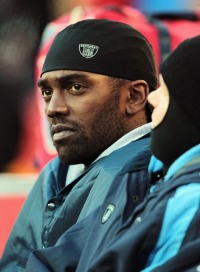 Posted by Josh Katzowitz
If WR
Randy Moss
had his druthers, he'd be playing, once again, in New England for coach Bill Belichick. That's what he told KFAN-1130 in Minneapolis (via the
Tennessean)
this morning.
"I would love to come back to Minnesota. But I don't know what they have in place,'' Moss told the radio station. "But if you ask me where my heart is … I am a big fan of Bill Belichick, I really am, and not just on the field. I am a fan of his off the field because the little grouchy man you see on camera is not what you see off the camera.
"If you ask me where my heart and where I am happy is, I love playing with
Tom Brady
and I love being coached by Bill Belichick."
That said, he also declared that he wasn't in the best state of mind after the
Vikings
released him and he signed with the
Titans
.
"By me being dropped, I think I went into depression a little bit but I had to suck it up and had to be a man,'' Moss said. "I have mouths to feed so I had to really take everything in stride and go to Tennessee and try and make things work.
"I wasn't playing much and they wasn't putting me on the field. But I had to put my feelings aside and keep playing football."
For now, Moss wants to keep playing. Well, not RIGHT now. Right now, Moss has money to win (he is, after all, a free agent and the NFL isn't exactly paying people right now).
"Right now,'' he said, "I'm getting ready to take my behind to the casino and sit down and play some slots."
For more NFL news, rumors and analysis, follow @cbssportsnfl on Twitter and subscribe to our RSS Feed .