Posted by Andy Benoit

At first blush, the NFL Competition Committee's proposal to move kickoffs to the 35-yard-line and have tou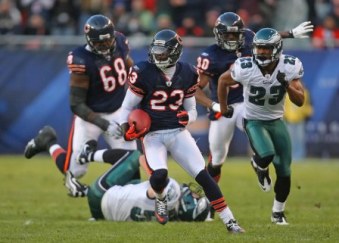 chbacks put the ball on the 25-yard line seems like an effort to decrease the number of kick returns altogether. After all, touchbacks would be both easier to obtain and more rewarding.
But "more touchbacks" is not what the Competition Committee is going for here – at least not first and foremost. The touchback narrowly beats out the fair catch as the most boring play in football. From an entertainment standpoint, it's hard to actively increase them considering that television now sandwiches kickoffs between two sets of commercial breaks. A commercial-touchback-commercial sequence equals roughly six minutes without any action. If fans were willing to tolerate long periods of inaction, soccer would be on network television more often than once every four years.
What the Competition Committee is really aiming for here are safer kick returns. If they wanted more touchbacks, they'd simply move the kickoff up to the 35-yard-line and leave touchbacks at the 20. But having touchbacks go to the 25 is an incentive for kickers to NOT boot the ball through the end zone.
Instead, what kickers would try to do is boot the ball high and force return men to catch it somewhere near the 10-yard line. Why here? Because with a hanging ball, the kickoff coverage unit, which now lines up at the 35, will have time to get downfield and be bearing down on the returner (somewhat) when he catches it. Kicking the ball to the goal-line would still give the returner enough space to scan the field and pick up speed. But kicking it to the 10? That puts some pressure on.
In short, kick returns would become more like punt returns. A shorter field means less speed and momentum from the players involved. Impact collisions at high speed are what's most dangerous in football.
Obviously, the incentive for a return guy to kneel the ball in the end zone is greater, too. So this proposed rule change is the best of both worlds, really. If kickoff units want to force a return, they now have a reason to kick the ball short. If they're willing to settle for a touchback, the return team will likely oblige.
One final note: this rule change could also lead to more onside kicks. The greatest deterrent to onside kicking is the risk of giving your opponent the ball on the cusp of field goal range. But if the ball must now reach the 45-yard line instead of the 40, failed onside kicks would no longer leave your opponent in automatic three-point territory. An offense that begins a drive at the 45 has to at least pick up a first down in order to attempt a field goal under 49 yards; that's not the case when drives begin at the 40.
Expect this kickoff rule change to pass. It promotes safety while forcing teams to update their strategy.
For more NFL news, rumors and analysis, follow

@cbssportsnfl

on Twitter and subscribe to our
RSS Feed