Posted by Andy Benoit

It's common knowledge that Reggie Bush is not worth the $11.8 million he's due in 2011. Bush is little more than a supped up role player for the Saints. Yes, he presents major conundrums to defenses worried about his speed and receiving prowess. But you don't pay decoys what you pay superstars.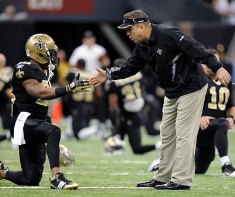 Sean Payton addressed the Bush situation at the NFL owners meetings earlier this week. Early on, it was one of the most impressive displays of "say-nothingness" you'll ever see.

"He's a guy that we feel will be a part of our team," Payton said of Bush, according to LTV.com"… He's a guy that we want in the fold, so he's a guy that we had a lot of dialogue with prior to this period of time."

To paraphrase: he's a guy.

On renegotiating Bush's salary, Payton said, "I think there will be a number. We just have to find that number that both sides are comfortable with."

Is that so? There'll be a number?

To be clear, this isn't to harp on Payton for his bland quotes. Well, maybe it is. But this isn't to censure him for it. It does Payton no good to publicly share information about any player's contract situation. And as the conversation progressed, Payton was at least willing to attempt to dance around the issue.

"I think (Bush) has got a pretty good grasp of the economy and where he's at," Payton said. "That's a big strength, especially when a player knows who he is and the type of team he's with. That's not a sure thing because, hey, there might be another suitor possibly, but I think he has a genuine desire to play here.

"I think the feeling is mutual."

For more NFL news, rumors and analysis, follow @cbssportsnfl on Twitter and subscribe to our RSS Feed.