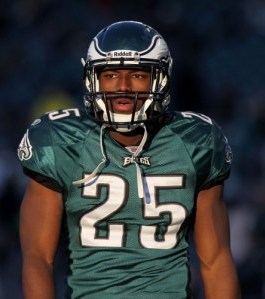 Posted by Josh Katzowitz
NFL owners aren't the only ones looking for a money give-back by the players. Bentley's, a restaurant and nightclub in Ashley, Pa., also is looking for a little something back from
Eagles
RB
LeSean McCoy
.
To be exact, Bentley's wants $2,500 from McCoy – who apparently took half of his appearance fee from the restaurant for a meet-and-greet appearance that was scheduled earlier this month for which he never showed and then never gave back the advance.
This, according to
Philadelphia Daily News
columnist Paul Domowitch, who writes that McCoy needs to apologize for stiffing the fans and the restaurant – which spent plenty of money advertising his appearance.
"We're investigating the full extent of what happened and why he didn't make it there," attorney Jonathan Comitz, who's representing the restaurant, told the paper. "If necessary, we'll pursue all available options. We spent a lot of money on advertising for this event. We took a hit to our goodwill because those people were livid, to say the least.
"Eagles fans up here are every bit as passionate as they are in Philly. We were left with very disappointed management at Bentley's and, more importantly, very disappointed customers."
More from Domowitch:
McCoy was scheduled to be at Bentley's for his March 11 appearance at 8 p.m. At 9:26, he tweeted, "So much bad LUCK got A flat."

At 9:45, he tweeted, "Like ya boy caught a FLAT." At 11:14, he tweeted, "Just got my ride situation straight . . . Lol Ashley PA here we come sorry for the wait."

Bentley's isn't buying the flat-tire excuse. For starters, McCoy was already an hour-and-half late when he first tweeted about the flat. Second, they even offered to send somebody to pick him up after he told Bentley's about the flat tire, Comitz said.

"It was one excuse after another," Comitz said. "I mean, I can make it down to Philly in 2 hours from here. As of 10:30, we were still led to believe he was on his way.

"At that point in time, he could have said, 'Look, there's no way I'm going to make it up there.' But he didn't. He said he was on his way, which we relayed to his fans. We're definitely disappointed. There were a lot of people waiting to see him."
*Credit Eye on Baseball's C. Trent Rosecrans for that gag. I don't know how I missed it. C. Trent said he was ashamed of me for not coming up with it myself.

UPDATED (11:16 a.m.):
McCoy's people have responded to the
Daily News.
For more NFL news, rumors and analysis, follow @cbssportsnfl on Twitter and subscribe to our RSS Feed.