Posted by Andy Benoit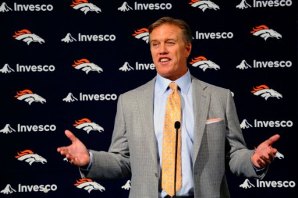 John Elway is still learning what life is like as the head of an NFL team's front office. Eventually, he'll come to realize that speaking his mind and giving honest answers to questions about hypothetical situations does him little good.
All that can happen is media outlets like the
Chicago Sun Times
taking his words on radio and relaying them in print. In that fashion, even when Elway's words are explained fairly, they're still presented out of context. Then, the next media outlet comes along (say, CBS' Eye on Football Blog) and relays the
Chicago Sun Times'
relayed words. Then, someone relays those relayed-relayed words on Twitter. By then it's really tough to maintain Elway's original context because, you know, the 140 character limit and all.
And so what you have is the world eventually hearing that John Elway said it's a good possibility the
Broncos
would not have traded
Jay Cutler
if Elway had been running the show in 2009.
Elway's comments were not at all made in an inflammatory fashion. To mitigate some of the "relay damage", we'll post an excerpt of what
Sean Jenkins of the Sun Times wrote
(Jenkins did a great job of explaining the context of Elway's quotes):
In January, two days before the NFC title game, Elway talked about Cutler at length for a radio station in Denver.

"It was a tough situation he was in, in Denver," Elway said. "I would say, to be honest, he's the type of player you don't give up on as easily as we gave up on. But you look at what he's done. He's done a good job there. He's matured."

Asked by a radio station host if Cutler would still be a Bronco if he were in charge at the time, Elway said, "There's a good possibility, yeah.

"I would say that. But I don't know. I wasn't in the middle of that. I didn't know Jay real well.

"But I would have done everything I can, especially when you have a talent like you have in Jay. Those guys don't come around very often."

Those sentiments are totally fair and totally logical. But, as Elway may come to learn, sentiments of that ilk can be totally easy for others to misrepresent.
For more NFL news, rumors and analysis, follow

@cbssportsnfl

on Twitter and subscribe to our
RSS Feed
.