Posted by Andy Benoit

Mike Florio of
Pro Football Talk
brought up one of the most interesting ideas in the issue of revenue sharing: a pegged salary cap. In other words, instead of the salary cap being determined by a certain percenta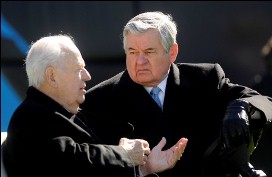 ge of revenue (which is the current model), it is a predetermined set amount.
Florio's sources tell him that this is an idea the players brought up in the meeting the day before the Super Bowl (that was the meeting where Jerry Richardson reportedly demeaned
Peyton Manning
).
The pegged cap would be based on revenue projections. It's attractive to the players because it makes for simpler auditing and guarantees they will still get their money even if revenue comes in lower than expected.
Florio writes, "As of right now, the two sides are $10 million apart per team on the 'pegged cap' approach . . . The owners have offered $141 million per team in salary and benefits, and the players have requested $151 million. If they can bridge the gap and devise a procedure for handling any excess growth, they should be able to do a deal fairly quickly.
As to 2012, it's our understanding that the gap in the respective cap proposals is only $5 million per team, with the league agreeing to pay what the players have requested in 2013 and 2014."
A pegged cap would presumably be easier on NFL front offices, as they would be able to structure players' contracts long-term with knowledge of the exact budget they're working with.
The last capped year was 2009. The salary cap that season was $130 million.
For more NFL news, rumors and analysis, follow

@cbssportsnfl

on Twitter and subscribe to our
RSS Feed
.