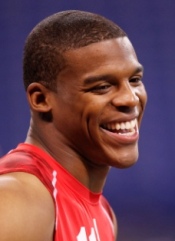 Posted by Josh Katzowitz

Pro Football Weekly's
Nolan Nawrocki generated a little controversy Tuesday when he wrote a scathing scouting report on Auburn QB Cam Newton.
Wrote Nawrocki: "Very disingenuous — has a fake smile, comes off as very scripted and has a selfish, me-first makeup. Always knows where the cameras are and plays to them. Has an enormous ego with a sense of entitlement that continually invites trouble and makes him believe he is above the law — does not command respect from teammates and will always struggle to win a locker room . . . Lacks accountability, focus and trustworthiness — is not punctual, seeks shortcuts and sets a bad example. Immature and has had issues with authority. Not dependable."
Today, Nawrocki tried to set the record straight during a conference call. Via the transcript from
PFW.com,
he was asked why he was so tough on Newton's character and how much of a concern that could be to potential employers.
Said Nawrocki:
"I think it was over-sensationalized in a slow news period. I don't think the evaluation was any different than any that we've been producing the last 33 years. If you look back last year at Jimmy Clausen, a lot of the same traits were mentioned. I thought he was an egotistical, disingenuous, scripted player with a sense of entitlement. I think that was a big reason why he slipped into the second round. You look back at history and I think you'll find a lot of similar evaluations of players. JaMarcus Russell is another one.
"When you do the work – we study this stuff year-round, talk to all 32 teams, general managers, head coaches, area scouts, personnel directors, college coaches – anybody that has insight into these players. We're trying to figure out just what kind of kid they are, what kind of commitment are they going to have to the NFL game. With the way money has gone in recent years with how much these players are getting paid in the top 10, you know they're instant millionaires before they ever step on the field in the NFL. I think the importance of character has never been greater than it is now. And I think that's where a lot of teams miss on first-round picks. It's just not being able to properly identify the character.

"With all the work that we've done on (Newton's) background, with the extensive amount of research and time that went into digging and figuring out what kind of kid he is, I feel very strongly about what was written and I stand by it fully. I think it's no different than anything we've done in previous years.
For more NFL news, rumors and analysis, follow @cbssportsnfl on Twitter and subscribe to our RSS Feed .