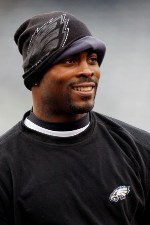 Posted by Josh Katzowitz
With the upcoming release of the next version of EA Sports' "Madden," there's plenty of controversy already brewing.
First, you've got the 32-player bracket in which fans can vote for the cover boy that has already led to "upsets" of
Bills
WR
Steve Johnson
(by
Patriots
RB
Danny Woodhead
) and of
Broncos
QB
Tim Tebow
(by a surprising
Chiefs
RB
Jamaal Charles
, who dominated Tebow 64 percent-36 percent) in the first-round matchups.
Now, you've got the People for the Ethical Treatment of Animals (PETA) who want
Eagles
QB
Michael Vick
evicted from the tournament (you know, the whole dogfighting thing).
That, however, won't stop EA Sports president Peter Moore from putting Vick on the cover if that is the result of the fan vote.
"We believe that Michael Vick, as the runner-up in MVP for the league and the comeback player of the year, deserved his slot," Moore told
CNBC.com.
"I can tell you we've already received the letters from our good friends at PETA urging us to take him out of the bracket. I'm not here to comment on what he did. I personally believe, and this is personal commentary right now, that Michael served his time. He's had a tremendous season."
Vick also believes he deserves the honor, as he's taken to his Twitter page to encourage fans to vote for him.
Moore also declared his company was wrong for originally allowing players who suffered concussions on the virtual field to return to the game. That's why, in Madden '12, that won't be an option (my heart breaks for those who have
Colts
WR
Austin Collie
on their team).
According to the AP, Moore said "we have an obligation in our industry" to recognize that brain injuries are one of the leading issues of the day.
For more NFL news, rumors and analysis, follow @cbssportsnfl on Twitter and subscribe to our RSS Feed .