Posted by Andy Benoit


The
Vikings
would like to stay in Minnesota. But their fate in the Land of 10,000 Lakes could depend on the state's willingness to help fund a new stadium (their old venue – you know, the one where the roof collapsed – is not up to NFL standards anymore).
Ted Mondale, who runs the Metropolitan Sports Facilities Commission
told the Star Tribune
that a new stadium bill could soon be introduced.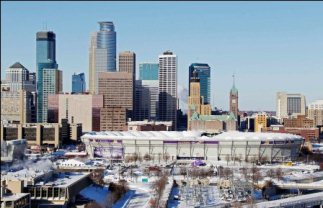 "My understanding from the bill authors is we're getting close," Mondale said. "How they want to handle it is obviously up to them. It's to the point now where the majority over at the Capitol now have their bill together and they're going to bring it out."
Mondale has been part of the group leading the push for a new stadium. There has been talk of an outdoor venue, but because the city has come to rely on the climate-controlled Metrodome for some 300 non-functions each year, an indoor stadium might be the easier sell.
Building a new stadium on the site of the Metrodome is the simplest solution. However, many would like the venue to be constructed near the Twins' new Target Field. That would create a full downtown sports/entertainment complex. If the stadium were built there, it could probably be open air as long as the city figures out how to maintain the Metrodome. The cost of that maintenance is $7 to $8 million annually. Each Viking game brings in $9.6 million in spending by fans.
"I think (stadium approval) can happen this year. I think it's probably as good a shot as ever," Mondale said. "The governor [Mark Dayton] would like to see it, and has laid out what he'd like to see. You can't pass a bill like this unless the governor is supportive of it. [Former governor Tim] Pawlenty was saying, 'Maybe, yes, no,' and when he said, 'I'm not going to vote for it,' it just can't get done."
The Vikings may soon find out whether or not it can get done.
For more NFL news, rumors and analysis, follow

@cbssportsnfl

on Twitter and subscribe to our
RSS Feed
.