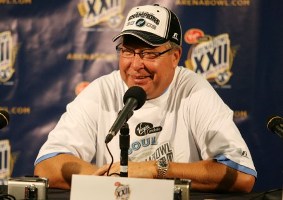 Posted by Josh Katzowitz
Whenever I hear old-time NFL players talk about the benefits they should receive for their contributions in building the NFL into the most popular sport in this country today, I always feel a sense of bitterness behind the words that are spoken.
Not necessarily bitter that those players from the 1940, 50s, 60s and 70s didn't receive the huge checks that many of those who play today get to cash on a monthly basis. But bitter in the sense that they feel their efforts to help create the game that we watch and cover today are ignored.
Especially by today's players.
I could sense that during Super Bowl week when the NFL Alumni held a press conference to lay out the group's platform for much-needed pensions and benefits. Although
Cowboys
RB
Felix Jones
was on the dais and was praised by the five or six former players who joined him, I could feel the underlying hurt that comes with not receiving the respect they feel they deserve.
Which brings us to former
Eagles
QB (and, obviously, current ESPN analyst and TV color guy) Ron Jaworski, who was asked by the
Philadelphia Inquirer
if he thought the NFLPA was keeping the former players' best interest at heart.
Said Jaws: "That part does disappoint me. I've been around long enough to understand that present-day players, they don't understand what the guys went through in [the previous work stoppages of 1987, '82, and '74]. … Quite honestly, I don't think they really give a damn about the guys that laid the foundation for the game. I think it's a lot of verbiage, but I don't think they really care."
What more can be done for those former players, though?
"I see these guys limping around and the physical handicaps they're now living under. These guys deserve something. . . . They deserve some compensation for that, and they deserve medical benefits, and they deserve treatment for all the issues that former players are now dealing with. We all know the life expectancy of former NFL players is less than a normal human being."
Jaworski makes an interesting point about whether players give a damn about the guys that came before them. I'm not sure that's exactly the case. With some exceptions, I think the players just don't give a damn about the
history
of the game. The lack of interest in the former players is just a byproduct of that.
For more NFL news, rumors and analysis, follow @cbssportsnfl on Twitter and subscribe to our RSS Feed .