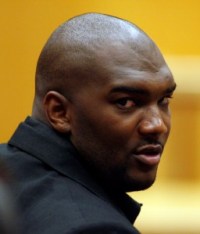 Posted by Josh Katzowitz
At some point, don't you just have to give up hope for former No. 1 pick JaMarcus Russell?
He was a bust for the
Raiders
– one of the biggest busts in NFL history, in fact – and then he got in a bit of trouble for allegedly possession the infamous Purple Drank (a grand jury later declined to indict him, though he had tested positive for codeine before). He's lost his house, and apparently, he's lost his will to be a professional athlete.
Yet, all seemed good when life coach John Lucas invited him to Houston in September so the two could work together. About seven months later,
Yahoo! Sport's
Jason Cole reports, Lucas is calling it quits.
And if you're thinking, "What the hell is wrong with Russell?" well, you're asking the same question I am.
Apparently, the marriage worked out fine in the beginning with Russell motivated to get in shape – presumably, physically and mentally – but eventually, Lucas tired of having to work so hard to get Russell to respond.
If you're frustrating Lucas, who's worked with plenty of alcoholics and drug addicts as they try to rehabilitate themselves, then you're probably not trying too hard to better yourself. Or you're working
really
hard at being an idiot.
"The title of your article should be, 'It's Over,'" a source told Cole. "It's just amazing that you could say that about somebody who is 25 years old and just got drafted four years ago. But it's been almost a year since he got cut and there's no interest. Even before the lockout, nobody wanted to get near the kid."
There's a good reason for that. Even when Russell has worked out for teams – he tried out for the
Redskins
and
Dolphins
last November – he's shown up in the 290-pound range. Obviously, he's not making a great impression on anybody, and this latest bit of news certainly won't help.
It's yet another miserable moment for Russell who's made a career out of nothing but sadness.
For more NFL news, rumors and analysis, follow @cbssportsnfl on Twitter and subscribe to our RSS Feed .