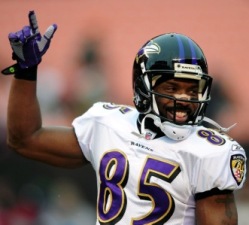 Posted by Josh Katzowitz
When
Ravens
WR
Derrick Mason
called commissioner Roger Goodell "a joke" for having the temerity to insist that blood testing for HGH would have to be included in the next CBA, apparently Mason felt that line of conversation was OK.
Then, when he explained his actions later in
a TV interview by saying
, "Honestly – I'm not saying this to disrespect him in any way – what has he done for the game of football to move it forward? Everything that has been done has been done by Pete Rozelle, [Paul] Tagliabue, people that came before him. But the thing is, he hasn't done anything significant to change the game of football," that also must have been fine.
But the fact he wore a T-shirt during his TV appearance that read "A joke," well, that was going way too far.
So, Mason, via
his Twitter account,
has apologized. Kinda sorta.
Mason writes, "So commissioner goodell I apologize for the shirt bit I still feel that there's a bigger issue to tackle right now and that's the cba!! … That's my public apology for my disrespect of the shirt....... And it's sincere ppl."
I'm not sure I understand why he's apologizing for the T-shirt and not the words he spoke. If he regrets calling Goodell a joke, then apologize for the whole thing. Otherwise, it's just kind of silly. I mean, he basically called Goodell a worthless commissioner (but hey, no disrespect or nothing).
Did he not feel that was worthy of an apology?
For more NFL news, rumors and analysis, follow @cbssportsnfl on Twitter and subscribe to our RSS Feed .