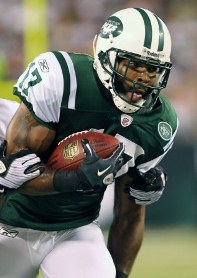 Posted by Josh Katzowitz
Remember how WR
Braylon Edwards
was arrested on
a DWI charge
last September even though the
Jets
have a designated driver system in place? Remember how it led to a teammate calling him
"selfish?"
So, six months later, Edwards must be contrite and embarrassed that the incident took place, right? He must understand the danger in which he placed himself and everybody else who was on the road that night, yes?
Um, not exactly.
In a radio interview this week in Detroit, via the
NY Post,
Edwards called the arrest "BS" and said it was blown out proportion because it occurred in New York City.
"The bad thing about this situation is I never drive in New York," Edwards said. "One, I don't know where the heck I'm going and two, the roads are too bumpy and traffic is crazy. I usually always have a chauffeur, but it was a random situation. I went to a teammate's event and stepped out after that.
"Why I got pulled over wasn't even because of erratic driving or suspicion of intoxicated driving, it was for tinted windows, which is some BS. But things happen. But you learn from it; no matter if you drive there you should have someone else drive back be at a car service, cab, a friend. Don't put yourself in that situation."
What Edwards fails to understand here (apparently) is that it doesn't matter WHY you got pulled over. It's that you got pulled over and then blew a .16, twice the legal limit.
But he's right, don't put yourself in that situation. Have somebody else drive your car if you've had too much. And for gosh sakes, make sure your windows aren't illegally tinted - the police will get you every time for that.
For more NFL news, rumors and analysis, follow @cbssportsnfl on Twitter and subscribe to our RSS Feed .