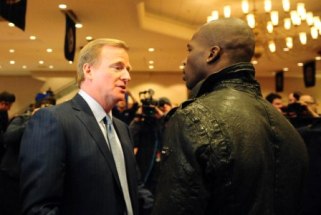 Posted by Josh Katzowitz
We all know that NFL team personnel (coaches, GMs, trainers, doctors) can't contact NFL players during the lockout, right? We're all clear on that, yes? If you ignore that rule, the NFL has the right to fire you. So, everybody understands they're not supposed to do that, correct?
What does it mean, then, that commissioner Roger Goodell called
Bengals
WR
Chad Ochocinco
for a little chat Thursday? Isn't that exactly what Goodell has been telling teams NOT to do?
Not sure of the explanation behind why this is kosher, but we do know that Ochocinco
tweeted Thursday
that Goodell surprised him with a phone call to ask how his workouts were going and that the two talked for an hour.
Tweeted Ochocinco: "#Truth I was nervous as hell when @nflcommish called me earlier, just the thought of him taking the time out to call is cool as fudge. … Its a lockout,let alone the offseason and the NFL commissioner called and we held an hour convo.Not sure how yall look at it but that's cool."
But is it cool? I bet NFLPA executive director DeMaurice Smith doesn't think so.

Pro Football Talk
asked NFL spokesman Greg Aiello about the conversation, and he said "normal social interaction" was permissible between teams and their players – this includes the commissioner.
Asked PFT: "Isn't that a slippery slope?"
Responded Aiello: "Life is a slippery slope."
Um, say what? How is that possible? How can teams – and more importantly, the people who are monitoring team phone calls that come into team headquarters – determine the line between "normal social interaction" and "getting a leg up on the season?"
Obviously, most conversations fall on one side of the line or the other.
But who's to stop, for example,
Eagles
coach Andy Reid from calling QB
Michael Vick
to wish him luck in the upcoming vote for the Madden '12 cover and, in the course of "normal social interaction," ask him how his offseason workouts are going and how WR
Jeremy Maclin
is feeling after his bout with a mono-like sickness this offseason?
Potentially, this isn't just a slippery slope. It's potentially an avalanche.
If the NFL doesn't want teams and players to be in contact during the lockout and as they battle each other in the courtroom and in the mediation room, perhaps the commissioner of the league shouldn't be calling on the league's biggest motormouth to say "What's up?"
Failing that test, we should all be questioning Goodell's judgment at this point.
For more NFL news, rumors and analysis, follow @cbssportsnfl on Twitter and subscribe to our RSS Feed .