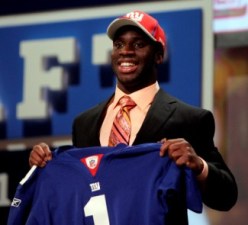 Posted by Josh Katzowitz
NEW YORK –
Prince Amukamara
, the
Giants
newest CB, stood at a podium on the fifth floor of the W Hotel at Times Square on Friday morning, and he looked dazed. Like he was in the middle of a dream and hadn't quite woken up yet. Like his eyes hadn't stopped REM'ing quite yet.
Then, as if on cue, his phone began to buzz, and as he reached into his pocket to silence the noise, he pointed out, "That was my alarm."
He didn't need it this morning, because, in reality, he didn't get much sleep last night.
"The adrenalin still hasn't slowed down," he said. "It's just too hard to fathom right now."
Hard to fathom because he had no idea the Giants were interested in taking him, and the Giants – who had the 19th pick – had no idea Amukamara would have fallen that far. But he was there, and the Giants thought he was the best player on the board they could take. In fact, Giants scouting director Marc Ross said he was shocked Amukamara was still there. Shocked, I tell you!
"I heard the (fans) chanting, "We want Prince. We want Prince,'" Amukamara said. "I still didn't think I was going to go here, because I hadn't talked to anybody with the Giants. But that's how the draft game works. It's pretty tricky like that.
"It's very odd, but coach (Tom) Coughlin, when he called me, seemed like a great guy and a great coach. I heard he's pretty stern and doesn't like to joke around a lot. I can get used to it, but I think my personality will probably loosen him up a little bit."
And if Amukamara actually believes that last part, he really is still dreaming.
For more NFL news, rumors and analysis, follow @cbssportsnfl on Twitter and subscribe to our RSS Feed .