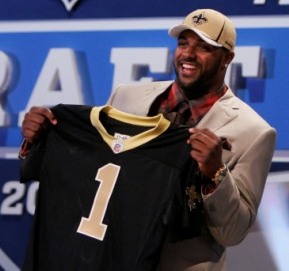 Posted by Josh Katzowitz
NEW YORK – There were times when
Saints
DE
Cameron Jordan
's father, Steve – a 12-year NFL veteran himself who was around for two work stoppages in his career – would try to explain the current labor situation to his son.
Steve would talk and explain, and eventually, Cam would have to excuse himself.
"My dad is trying to throw his advice in there, and it makes my head hurt and I'd rather not deal with it," said Cam Jordan, taken at No. 24 by the Saints in Thursday's first round. "I thought it was solved, but it's not. I'd said, 'OK? I'm just going to bench press and go run some 40s. All I can focus on is training. That's what I know is going to be there for sure."
When I asked Jordan on Friday if he had followed the labor dispute, the lockout was not in effect. Then, a few hours later as I was transcribing his quotes, the lockout had been reinstated. Except that it was an incorrect report, and the lockout actually was NOT on. Now as I write this post, the NFL actually is closed again.
It's a confusing time for those of us who follow the NFL, but it's absolute chaos for this year's draft picks. In past years, you're drafted, you travel to your new team to visit the facilities and meet the coaches and front office, you participate in a news conference, and you ready yourself to begin rookie camp (and then OTAs and then mini-camps, etc.).
This year, though, everything changes in the time it takes for a judge to sign an order. The NFL is not open right now, but the lockout might be lifted by this time next week.
"I look at it like this: football will resume eventually," Cam Jordan said. "Whether that's today, next week or whenever the court is done with this process, all I can do is keep training. It's definitely a little murky right now."
So, how are the new draft picks supposed to act?
"It's kind of tough, because it's a situation of limbo that shouldn't be a situation of limbo," said
Seahawks
G
Chester Pitts
. "The lockout was lifted Monday, so the doors should have been open Tuesday. It's one of those things where the NFL wasn't prepared for that to come down the pike so quickly. For the young guys, my advice is to continue to stay in shape. It'll be easy to be ready. When they come in, there's nothing that's going to be expected of them to flow right in. It won't be that difficult."
Perhaps, but many of these new players will need the money that comes from signing bonuses and paychecks. Jordan doesn't have to worry about that scenario, though.
"All I can say is, 'Thanks dad.' I come from a pretty solid support system, anchored by my mother and father," he said. "So I'll be OK."
You mean because your parents are footing your
Bills
?
"So," Jordan said with a big smile, "you understood that."
For more NFL news, rumors and analysis, follow @cbssportsnfl on Twitter and subscribe to our RSS Feed .