Posted by Andy Benoit

So what are we to make of the Patriots drafting Ryan Mallett in the third round? Nobody quite knows. But if you're thinking the Patriots have reason to believe that their superstar quarterback plans to retire once his contract expires in 2014, forget it.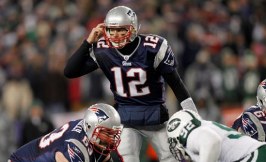 Kurt Warner recently said on NFL Network, "I did text Tom Brady after this (Mallett) pick and he wanted me to know for sure that he was planning on playing 10 more years."

Brady is currently 34 years old.

The Patriots have an unofficial policy of getting rid of players a little too early rather than a little too late. It's possible Brady could finish his career in another uniform.

But it's also possible the Patriots plan on developing Mallett into a long-term backup or, more likely, a short-term backup who can be traded for a high-round pick two or three years from now (ala Matt Cassel).

Obviously, there is a lot that still needs to play out. We'll put this discussion on the backburner for now.

UPDATE 12:33 p.m. EST: Is it possible the Patriots took Mallett in part to prevent their division rival Dolphins from getting him? A Dolphins source told Armando Salguero of the Miami Herald, "We were willing to take (Mallett), we just couldn't get our hands on him. We tried, but we couldn't do it. He's going to be a good quarterback."

For more NFL news, rumors and analysis, follow @cbssportsnfl on Twitter and subscribe to our RSS Feed .