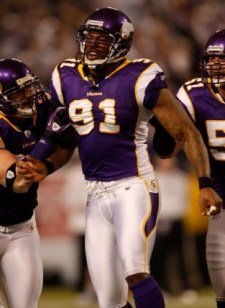 Posted by Josh Katzowitz
It sounds like
Vikings
DE
Ray Edwards
is serious about pursuing boxing as his full-time career. If the lockout ends tomorrow, it seems hard to believe Edwards will give it up to start at the absolute bottom of another sport. But he seems pretty adamant about his change in careers.
And at the very least, he seems pretty sure that his career in Minnesota is complete.
He told the
Minneapolis Star Tribune
that he won't play for less money than what his backup will receive (what he means by that is the Vikings gave him a one-year, $2.8 million tender while
Brian Robison
signed a three-year, $14.1 million deal with a $6.5 million signing bonus), so assuming the Vikings don't give him a better contract, he's not interested in playing with them.*
*To be fair, there's no doubt that Edwards is one of those guys who could get absolutely screwed if the NFL returns to the 2010 rules that restricted his free agency.
He might not be interested in playing at all for that matter, though the
Falcons
seem to have interest in him as a free agent. Instead, Edwards says he's content to receive a $5,000 payday (and half of the gate receipts!) when he makes his career debut May 20 against 34-year-old T.J. Gibson – who's about eight inches shorter and 45 pounds lighter than Edwards – at Grand Casino in Hinckley, Minn.
"I'm not worried," Edwards told the paper. "Nobody will get close enough to hurt me. I'm not making any guarantee, but I will get the job done. I'm not trying to go out there just to say that I did it."
But I would hold off on the comparisons between Edwards and
Tom Zbikowski
for now. Zbikowski had a long amateur career, and he had a strong foundation from which he could draw. And even then, he has struggled in at least one bout against a bottom-tier fighter.
Edwards, meanwhile, has trained somewhat seriously only the past two years and has no other experience. And while noted trainer Emanuel Steward was very complimentary when talking about Edwards' abilities, we don't know anything about his chin and his conditioning.
"I think it's very, very realistic for him to have an impact in the heavyweight division," Steward told ESPN (via the Star-Trib). "Ray is a natural boxer in terms of rhythm and coordination. But it's his speed that surprised me because he is such an extremely big guy.
"With the proper training and regular fights, I would say in about 10 months he could be a serious threat to any middle-of-the-road or Class B heavyweight. ... Ray would be a tough match for any heavyweight outside of the top 12 in the world."
If Edwards is serious about not returning to Minnesota, we might actually get the chance to see if Steward is right. But I can just about guarantee one thing when Edwards talks about bringing home the world heavyweight championship (to do so, he'd have to beat current champs Vitali and/or Wladimir Klitschko): he's got absolutely no shot of doing that.
For more NFL news, rumors and analysis, follow @cbssportsnfl on Twitter and subscribe to our RSS Feed .